A folding chair isn't just a chair. It's a way to facilitate getting people together. It could be a finely fashioned piece of engineering, designed to provide a perch for your posterior. People use folding chairs in many aspects of life, storing them in a closet for when the relatives stop by for dinner or assembling them in droves for large events. So how do you tell the difference between the good chairs and the ones that just don't sit right?
As designs became more efficient, folding chairs began appearing in hotels, town assemblies, and concert halls. They are now ubiquitous at sporting events, movie theaters, business conferences, and university lecture halls. By now, it's hard to imagine anyone not having sat on a folding chair by the age of 2. Yet, as most will attest, not all folding chairs are created equal. Some are miserably uncomfortable, some are flimsy, and others are an eyesore.
So how do you tell the difference between quality folding chairs and those that just don't sit right? There are six things to consider when looking for folding chairs.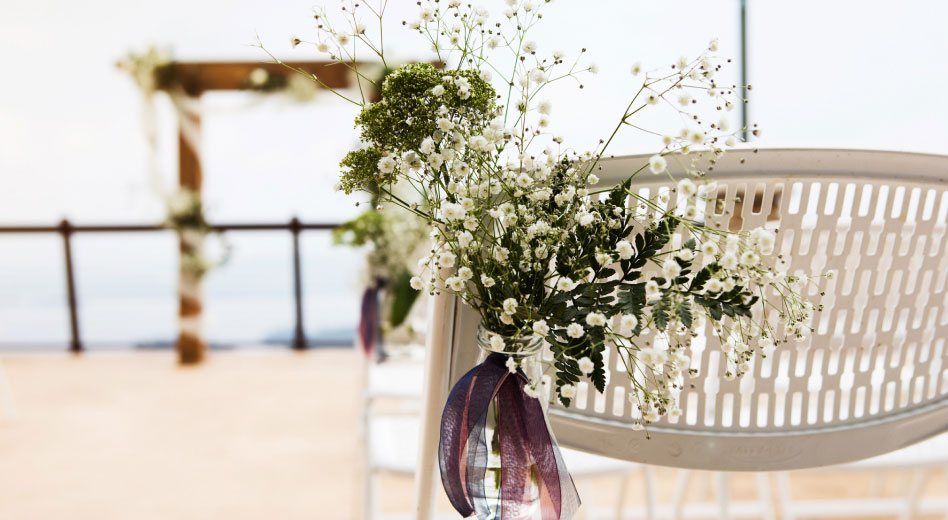 1. Aesthetics
Before you consider your folding chair's specifications or sit in it to test its comfort, you'll first notice its aesthetics. Let's be honest: nobody wants an eyesore in their space!
While the functionality of a folding chair is essential, its design shouldn't be overlooked. A quality folding chair can complement the décor of your property, proving that practicality and style can go hand-in-hand.
Today's market offers a plethora of folding chair designs, from sleek modern lines to charming vintage-inspired looks. Whether your property is hosting a sophisticated soirée or a laid-back barbecue, there's a chair that will seamlessly fit the vibe.
So while you're shopping, don't just settle. Seek out a quality folding chair that's sturdy, comfortable, and aesthetically pleasing. Look for folding chairs with custom upholstery options, so your folding chairs can add to the decor. Consider styles made of materials that complement your property's decor, such as black plastic for modern interiors or polished hardwood with a cushioned seat for a retro vibe.
2. Comfort
Once you've settled on the aesthetics and thought about how to dress up the chair to fit your space, prioritize comfort. A quality folding chair should be a place where you genuinely enjoy sitting.
Imagine attending an event where the folding chair becomes an unwelcome distraction because it's just too uncomfortable. Nobody wants that. The ideal chair should support and embrace you, preventing discomfort even during prolonged use.
When evaluating a chair's comfort, consider the following:
Seek an ergonomic design, ensuring the seat and backrest contour to match your spine's natural arch.
Check the cushioning. It shouldn't be excessively soft or too hard. Spend a few minutes seated, shifting around to identify any discomfort or pressure points.
Examine the chair's size to guarantee it offers enough space for easy movement.
If the chair features armrests, they should be at a height that feels natural and comfortable.
Lastly, trust your instincts. Your initial feeling upon sitting is a great indicator of the chair's overall comfort.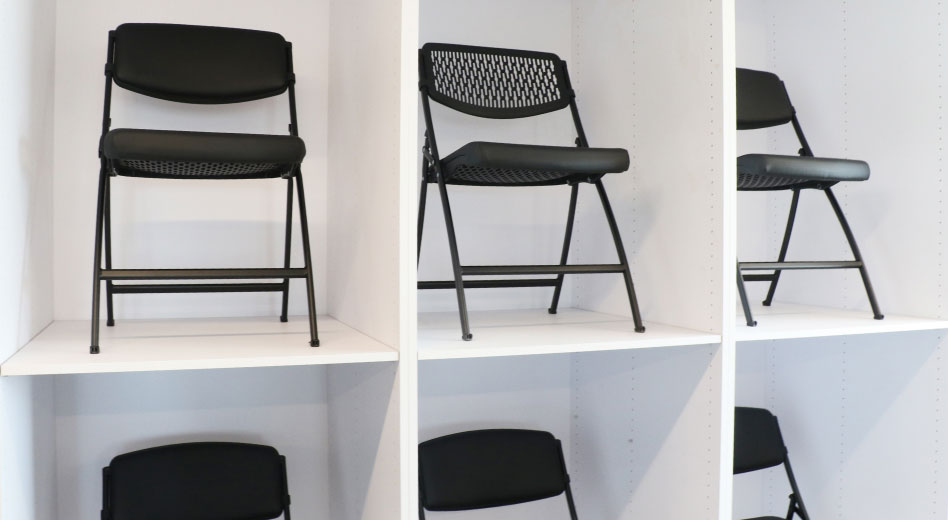 3. Durability
Durability is yet another prime factor to consider. A long-lasting, quality folding chair not only offers value for your money but also ensures safety and reliability over time.
To gauge durability, consider the chair's material. Steel or aluminum frames tend to be robust, while UV-resistant plastics can withstand outdoor elements. Inspect the chair's joints, hinges, and welds; they should be sturdy and free of wobbling.
Don't overlook the chair's finish—corrosion-resistant coatings can prolong its lifespan. Ultimately, a durable folding chair is an investment, promising longevity and peace of mind for countless gatherings and events.
4. Portability
The essence of a folding chair design lies in its convenience and ease of transportation—it should be portable.
When prioritizing portability, consider the chair's weight. Lightweight materials like aluminum can offer both strength and manageability. The folding mechanism should be smooth and uncomplicated, allowing for quick setup and takedown.
A compact folded size ensures it doesn't occupy too much storage space and is easy to transport, whether it's being carried or pushed in a chair cart from room to room. Some chairs even come with carrying handles for added convenience—or are compatible with chair carts or dollies that allow you to move folding chairs in bulk. A folding chair design should effortlessly blend durability with portability, making your life simpler and more efficient.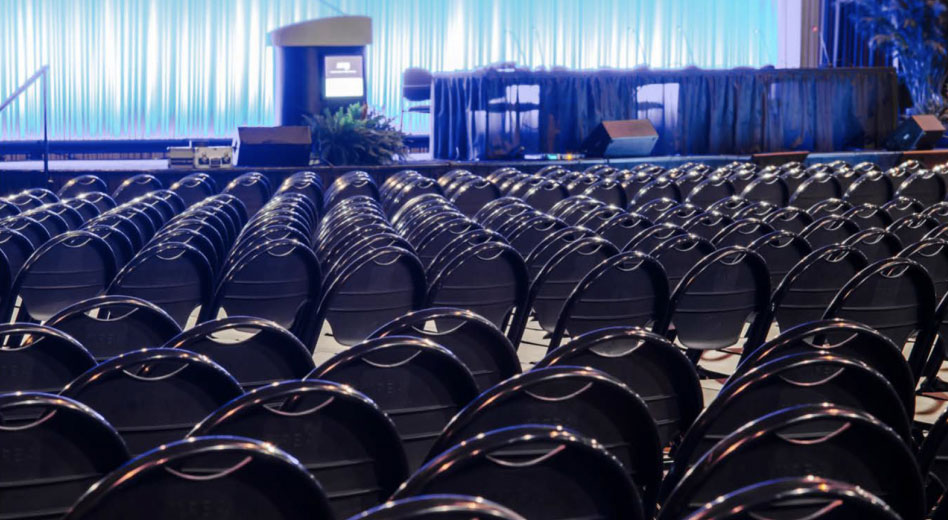 5. Safety
Another consideration is safety. Quality folding chairs are built to support high static loads of 500 pounds or more without failure. All folding chairs have potential pinch points due to the folding mechanism, so look for safe designs with low chances of pinching.
The use of ganging mechanisms for large events keeps rows of chairs connected, preventing chairs from getting pushed around and blocking the exit in the event of a fire. Ganging is required for fire codes for commercial use in most states when hosting events of certain sizes. Look for chairs with ganging if you will need them.
6. Storage
Your final consideration should be storage. Many of today's facilities are designed to maximize revenue generating square footage. Much to the dismay of facility operators, storage areas almost always take a back seat.
Folding chairs, by nature, are the most space efficient seating options for large groups, but not all folding chairs are created equal. Look for folding chairs that fold densely together, have indexing features to minimize movement when stacked or nested together, and look for manufacturers that provide a variety of cart options that work well with the widths and heights of your doorways and storage areas.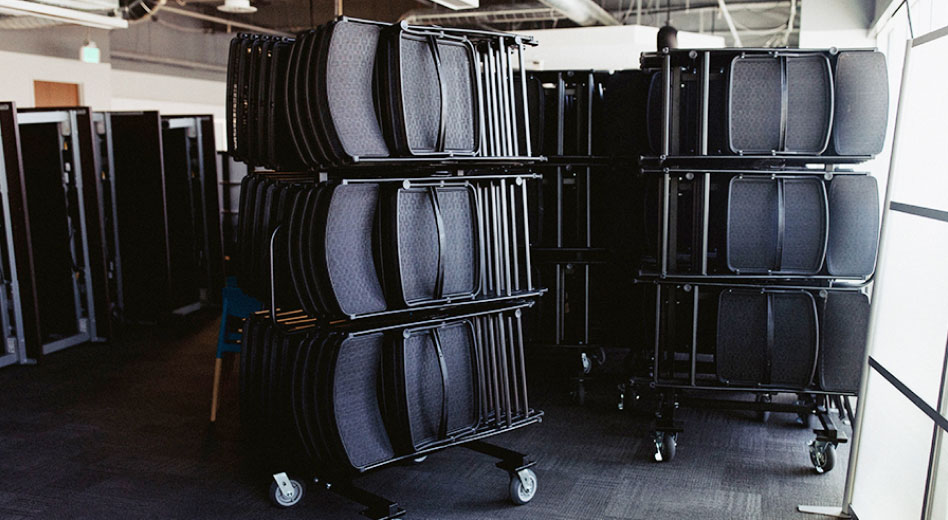 Types of Folding Chairs
Folding chairs come in many shapes, sizes, materials, and price points. MityLite takes pride in offering some of the best folding chairs on the market, in all price ranges.
MeshOne™ Folding Chair
This type of folding chair stands out with its comfortable elastomeric mesh fabric seat and backrest. This patented ergonomic marvel ensures a seat that adapts to each person's unique form.
Mesh upholstered folding chairs use revolutionary mesh technology, developed originally for high-end ergonomic office chairs, in the seat and backrest to deliver an unsurpassed seating experience. The structural polyester and elastomeric weave minimizes pressure points, increases airflow, and adds an aesthetic dynamic that is unique.
MeshOne™ Folding Chairs are incredibly light, weighing in at 20% less than upholstered chairs of the same style. They're also extremely durable. Chairs with rip-stop mesh fabric and steel chair frames are engineered to support over 500 pounds (226.7 kg).
MityLite's FlexOne® CS
Previously known as the OneSeries® PRO, the FlexOne® CS Folding Chair showcases a blend of affordability and unmatched comfort. The geometric-shaped plastic seat and back offer a cool, comfortable, ventilated experience.
These injection-molded "flexible" seat and backrest folding chairs are made from plastic melted into molds to form a flexible, contoured pattern that allows the chair to conform to the user. They are built with a steel frame for durability and are available in a wide variety of colors.
FlexOne® chairs are lightweight, easy to handle, and ideal for both indoor and limited outdoor events.
The SwiftSet®
This folding chair design is MityLite's answer to efficient event setup and teardown. Its innovative, no-frills design enables tight stacking, optimizing storage space. This folding chair is available with a hard plastic seat and back (in a wide variety of colors) or with a cushioned seat and/or back and upholstery.
Looking to strengthen your brand? You can customize the SwiftSet with logos or motifs to make a statement. With an extensive 10-year warranty on its frame and additional coverages for the seat, back, and upholstery, the SwiftSet® guarantees quality and style.
These are just a few of the many quality folding chairs we offer. Peruse our store to view our other offerings.
Best Commercial Folding Chairs
Products

Benefts &
Features

Wide, comfy seat
Durable steel frame (supports 1,000 lbs.)
Lightweight
Cooling with built-in airflow
Stretchy fabric minimizes pressure points
2 colors

Wide, comfy seat
Durable steel frame (supports 1,000 lbs.)
Lightweight
Ventilated seat and back design
20 colors
Easy to clean

Narrower, space-saving seat
Durable steel frame (supports 1,000 lbs.)
Lightweight
Smooth plastic or padded seats/backs
16 colors

Width

19.8″ (50.3 cm)

19.8″ (50.3 cm)

18″ (45.7 cm)

Height

32.5″ (82.6 cm)

32.5″ (82.6 cm)

34.5″ (87.6 cm)

Length

23″ (58.4 cm)

23″ (58.4 cm)

23″ (58.4 cm)

Weight

11 lbs (4.9 kg)

9.510 lbs (4.3 kg) lbs

12 lbs (5.2 kg)

Glide Options

Nylon

Nylon

Plastic

Frame Material

Steel

Steel

Steel

Weight Capacity

1,000 lbs (453.6 kg)

1,000 lbs (453.6 kg)

1,000 lbs (453.6 kg)

Patents

n/a

Patented flex seat

n/a

Warranty

12 years on frame, 3 years on seat and back

12 years on frame, 3 years on seat and back

10 years on frame, 3 years on seat and back
Find Quality Folding Chairs at MityLite
Choose MityLite for unmatched durability and comfort in seating solutions. Our innovative designs redefine what a quality folding chair should be. Trust MityLite and elevate your seating experience today!

Call 800-909-8034 to get in touch with a dedicated sales rep today!
Products Featured in This Article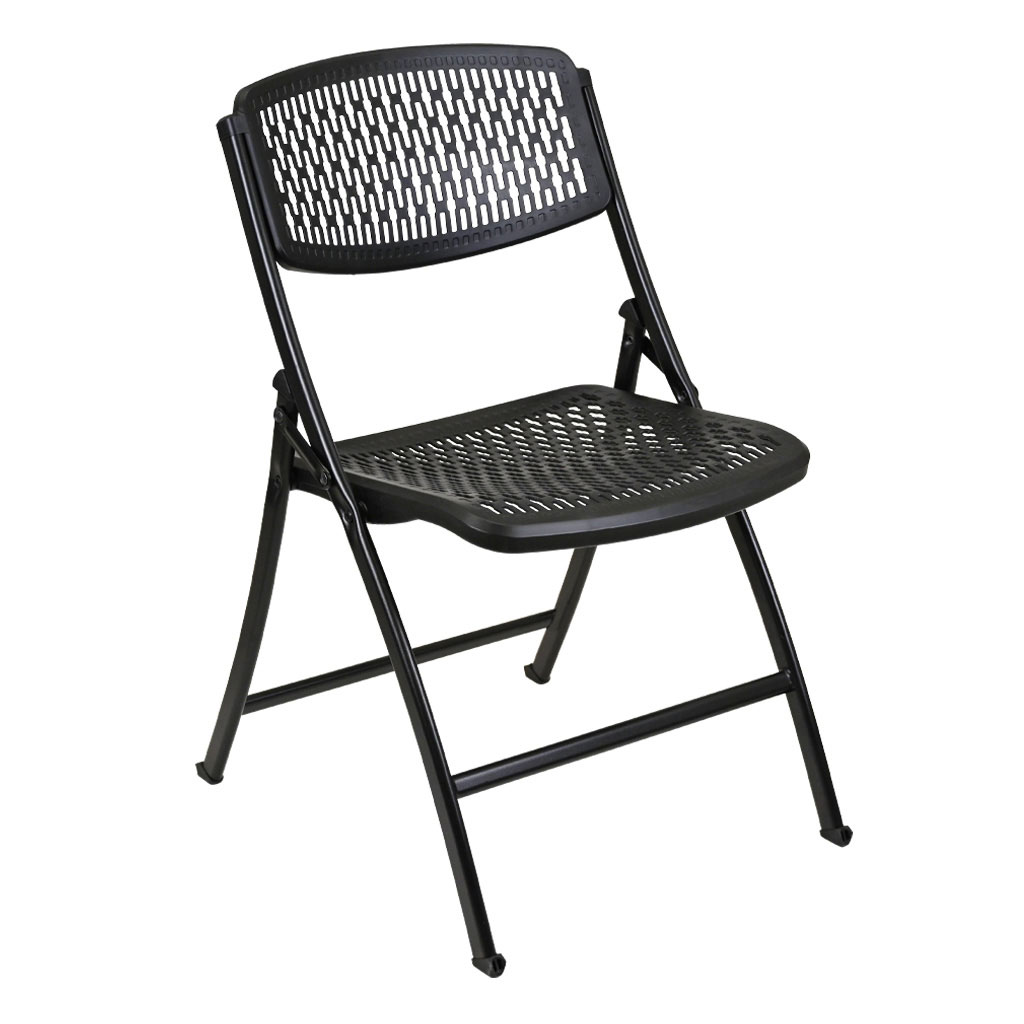 16 Plastic Colors, 20 Frame Colors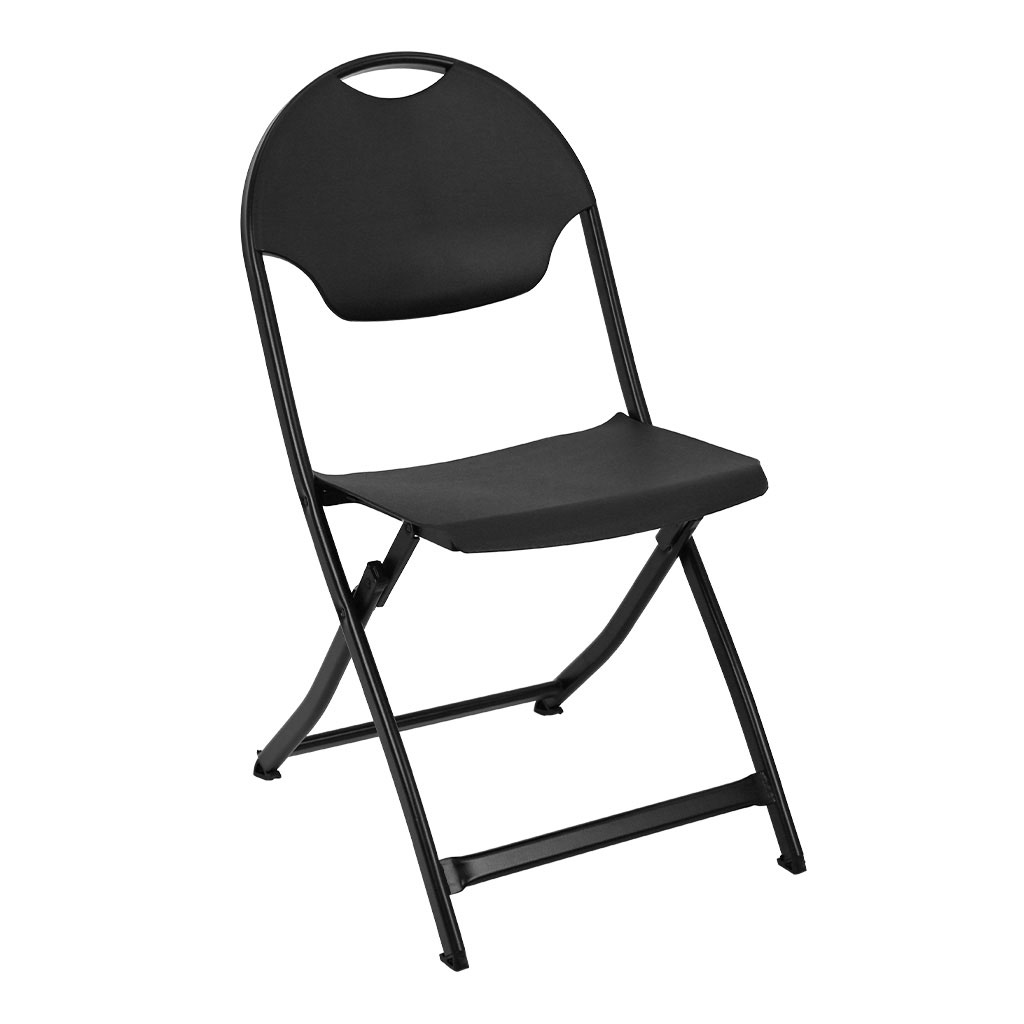 16 Plastic Colors, 22 Frame Colors