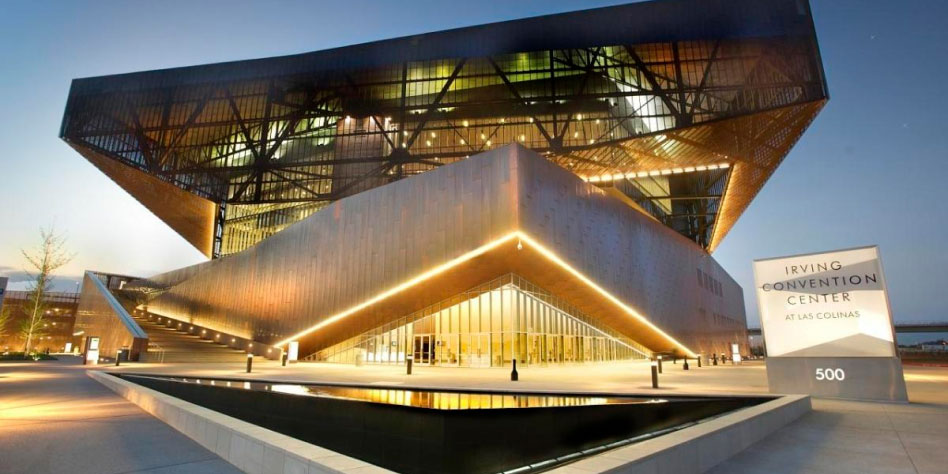 SUMMARY
Deep in the heart of Texas, a bustling event center partners with MityLite
Property Overview
The Irving Convention Center at Las Colinas is a sprawling, high-energy event center that's located smack dab in the heart of the Dallas-Fort Worth Metroplex. Home to five fortune 500 companies, the city of Irving, Texas has a thriving business district, an entertainment complex, notable outdoor sculpture gardens, water sports lakes and waterways, and a picturesque, cobblestone canal walk through the downtown area.
The Irving Convention Center is ideally situated to host mid-sized conventions, exhibitions, and business events at its well-appointed campus in the prosperous Las Colinas urban district. The convention center is situated less than 10 miles from both the DFW International Airport and Dallas Love Field Airport, and dozens of nearby hotels.
Watch the Video
Property Summary
Year built: 2011
Event space: 275,000 sq. ft., including 20 breakout rooms, two ballrooms, an exhibition hall, a café, several shaded outdoor terraces, and floor-to-ceiling windows with sweeping views of Lake Carolyn
Seating capacity: 4,000 guest
Environmental commitment: LEED® Silver certification by the U.S. Green Building Council
Event furnishings: Encore HD Banquet Chairs, ABS Round Folding Tables, Magnattach Portable Dance Floor, ABS Rectangle Tables, and MityLite Cart
"We recently purchased about 4,000 new Encore Banquet Chairs. Our new Encore chairs are amazing—everybody raves about them."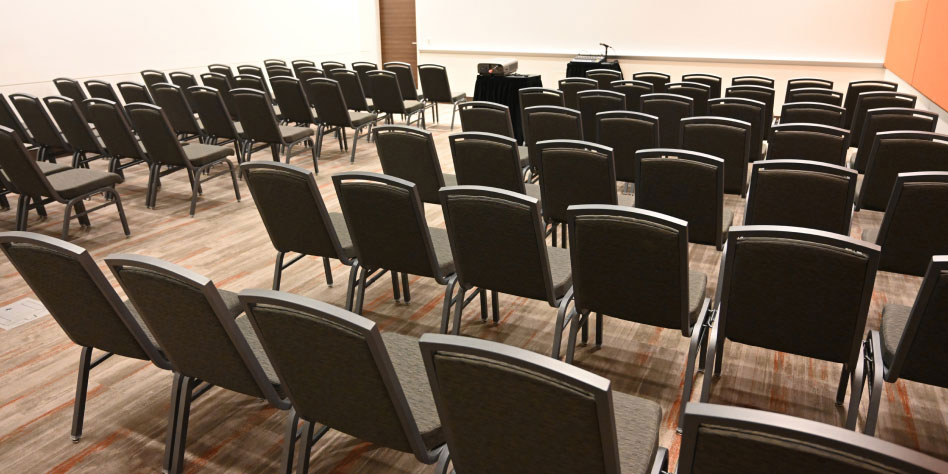 Why MityLite?
The Irving Convention Center is a popular venue for corporate events and conventions. They get their share of weddings and parties here, too, so furnishings need to be flexible and easy to move around. We recently spoke with Tony Watson, the center's Director of Operations, to learn about his experience with MityLite.
"I have been in the business for 26 years—going on 27 years—and I have been using MityLite products the entire time," Tom said. "I use MityLite because they're very durable products." He's seen how well MityLite chairs and tables last at busy event centers. "I see MityLite at every conference I go to, and I always stop by their booth and say hi and look at the new chairs and tables—whatever new stuff is coming out."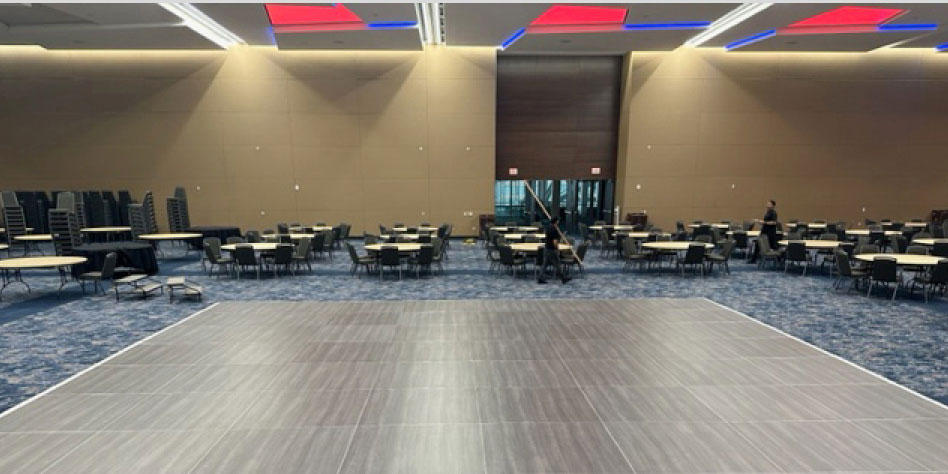 Tom said they also needed a new portable dance floor for their events and heard about the Magnattach dance floor. "We just recently bought a new MityLite Magnattach® dance floor, and it's amazing. It's so much easier to put together than the old dance floor. The guys rave about it." The Magnattach dance floor can be set up in less than seven minutes with a team of two people, which saves a lot of time and labor costs. Like other MityLite products, it's built for durability, featuring welded corners and ultra-durable Wilsonart® laminate.
"I use MityLite because they're very durable products."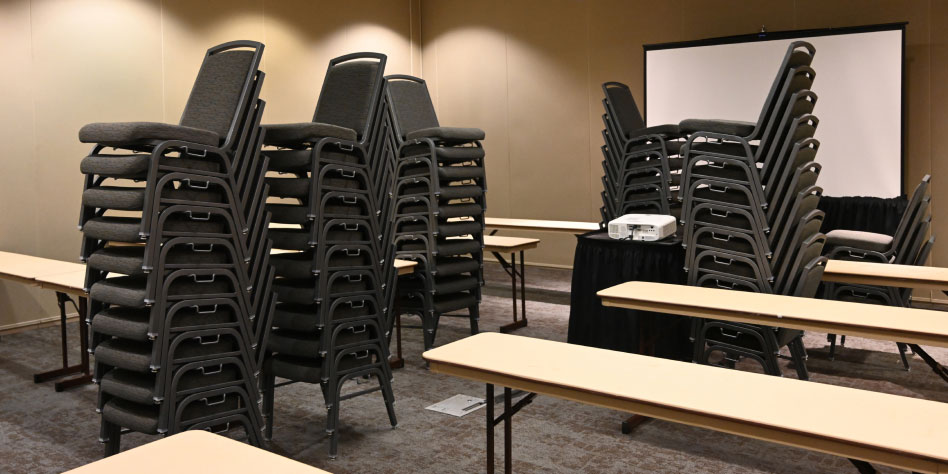 MityLite: A Reputation for Reliability
Another reason the Irving Convention Center partners with MityLite is because of the industry-leading warranty. "The MityLite brand is very respected. They make high quality, very durable products. MityLite backs all their products up [with a warranty]," said Tom, "and if you ever need anything, they're always willing to help with that."
When the center first opened in 2011, they ordered MityLite products. "We probably have 1,500, maybe 2,000 tables in the building [purchased back in 2011]," said Tom. "They're all from MityLite, and there are no problems at all with any of our tables." ABS Tables feature a durable, stainproof plastic tabletop with reinforced edges and a steel frame. They're a favorite for commercial venues like the Irving Convention Center thanks to their outstanding durability.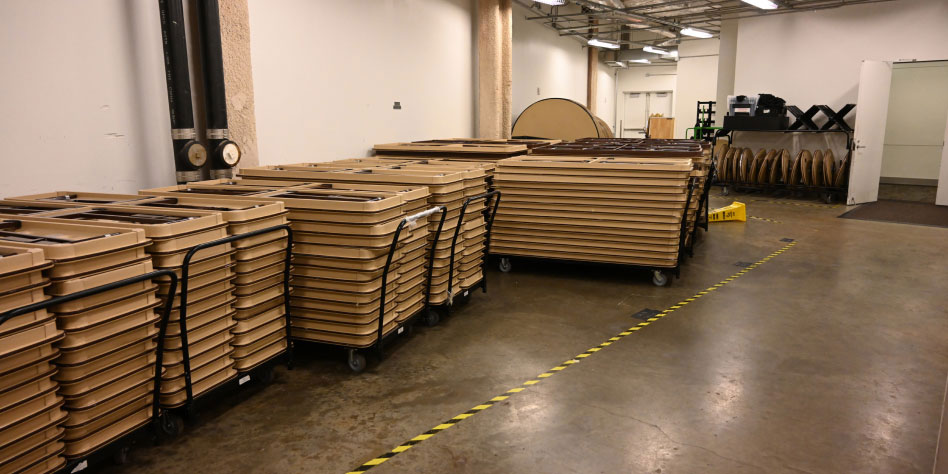 Tom says that working with MityLite has been a pleasure over the years. "The sales team's always amazing, they've always got an answer, and if they don't have it, they'll get me the answer quickly. They're very easy to work with, and there's no pressure. They don't make you feel like you have to buy anything from them. I've always enjoyed that, and I think that's one of the reasons why I go back to them every time."

To get a quote for your upcoming project, talk to your Sales Rep
Products Featured in This Article