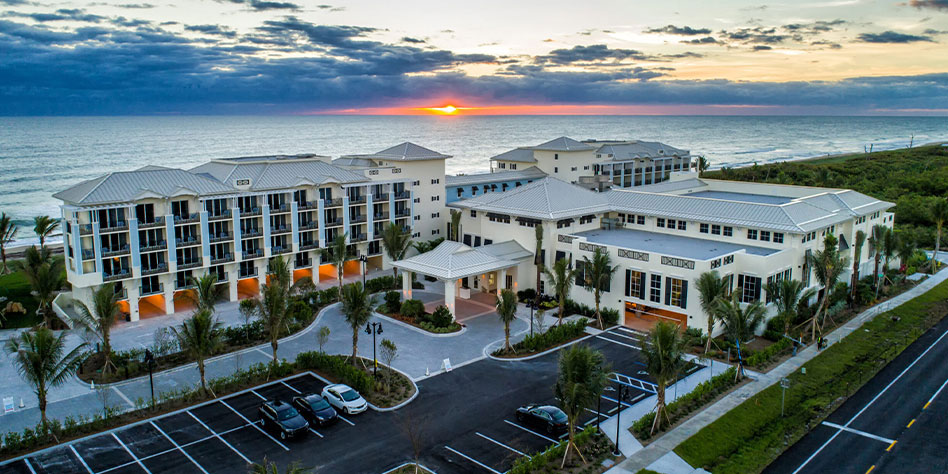 SUMMARY
Stylish event furnishings help make this property a top choice for destination weddings and corporate retreats
Modern laminate tables create a professional appearance for business events
Folding chairs & tables move from ballroom to terrace with ease
Overview
Hutchinson Shores Resort & Spa is a gorgeous oceanfront property in Jensen Beach, Florida. Boasting stunning ocean views and luxurious interiors, this boutique hotel pampers guests in a setting of laid-back luxury.
A big draw to the property is Hutchinson Shores event space featuring sleekly styled ballrooms, meeting rooms, and an expansive event terrace overlooking the ocean—all furnished with MityLite furniture and event equipment. It's a top choice for destination weddings, corporate retreats, and conferences.
Property Summary
Year built: 2017
Event space: 12,000 sq. ft., plus an outdoor terrace and beach
Event furnishings: Magnattach® Dance Floor, Eon Banquet Chairs, Madera Pro Cocktail Tables, Fold & Roll Portable Stage, ABS Tables, Reveal Duo Tables, and MityLite Carts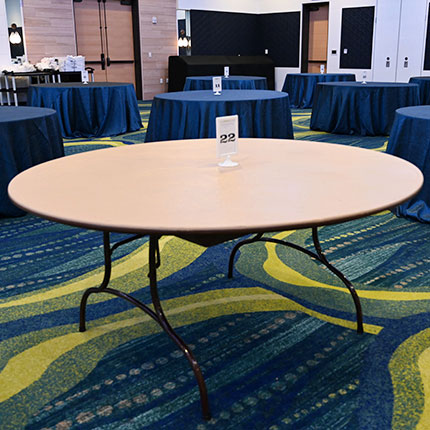 "The quality and durability of MityLite products have been fantastic. They're easy to use, and they're well built. I've been doing events for five years straight, and there's not one piece that's worn out or that we've needed to replace. It's always been, let's add more. Because we don't have enough of them!"
Weddings & Formal Events
Thomas Deahn is the Director of Event Management at Hutchinson Shores Resort & Spa and has been orchestrating five-star events with MityLite furnishings for years. "Most of our products are MityLite—from our staging to all of our banquet chairs, tables, and cocktail tables," says Thomas. "Our MityLite stuff looks good and is so efficient."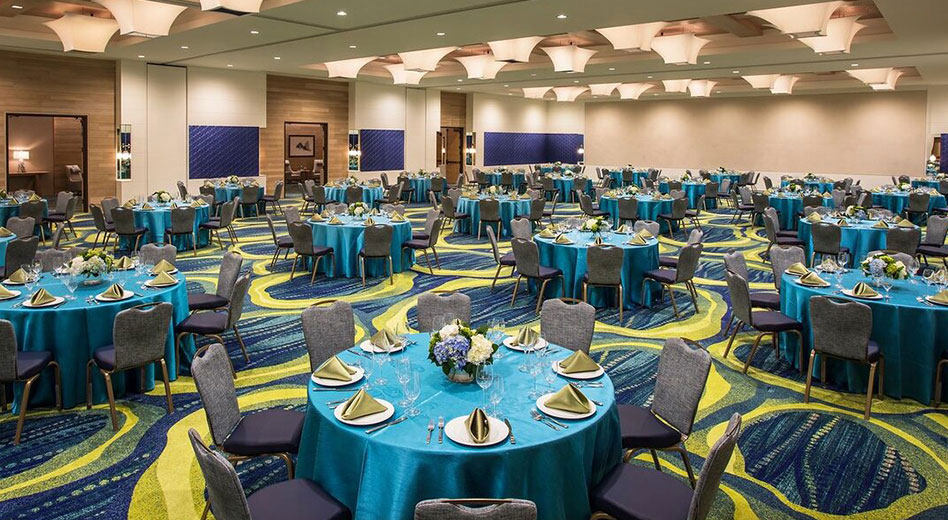 With its prime oceanfront location, Hutchinson Shores does hundreds of events per year. "We have an awesome beach here, so that works out well for weddings," Thomas says. "And for those brides who don't want their feet in the sand but want that ocean view, we also have a beautiful terrace. We tailor it to them."
Business Events & Conferences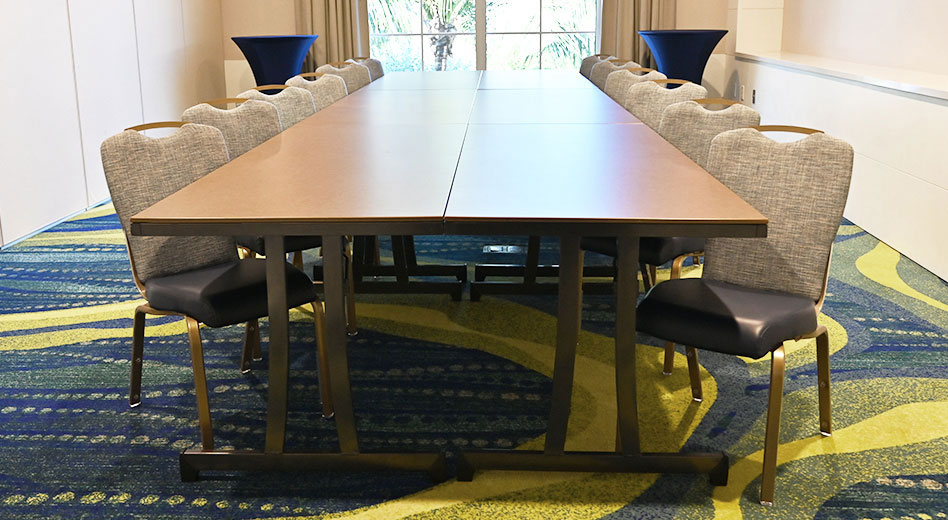 As the newest property in the area, Hutchinson Shores also hosts a steady stream of business conferences and retreats. MityLite's modern, linenless tables are a central feature. "We really appreciate the flexibility of the Reveal Linenless Duo classroom table with the fold down modesty panel. They're fantastic." Thomas says sometimes they use them as full-width 30" tables (with the panel flipped up) and as conference style tables (with the panel down).
"With the tables being linenless," Thomas says, "it saves us work and labor time and it looks 100% better for business events. And in a day and age when labor is challenging to get and keep, the more efficient it is, the better off we are. MityLite products make it extremely easy to be efficient." MityLite's portable staging is another key part of their business event setup, allowing them to host large conferences in the Sea Turtle Ballroom.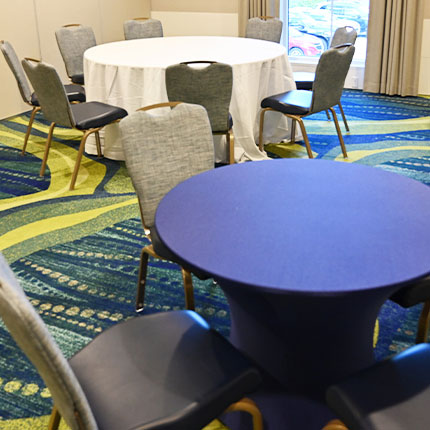 "My advice to other venues is to always get a few more of everything than what you really need. Also, if you're an oceanfront property like we are, just be cautious where you store things. No matter how well built a property is, salt air will rust metal—a car, a pole, anything."
Event Setup Tip: Use Carts
With such a busy event schedule, room setups change constantly. That's where MityLite carts come in. "The complementing carts to move equipment have made life invaluably easier," says Thomas. "We've had many people [new employees] come here from other properties, where they had to carry stuff by hand. We're just really fortunate to have all these carts to use to make everyone's job easier."
Advice to Other Properties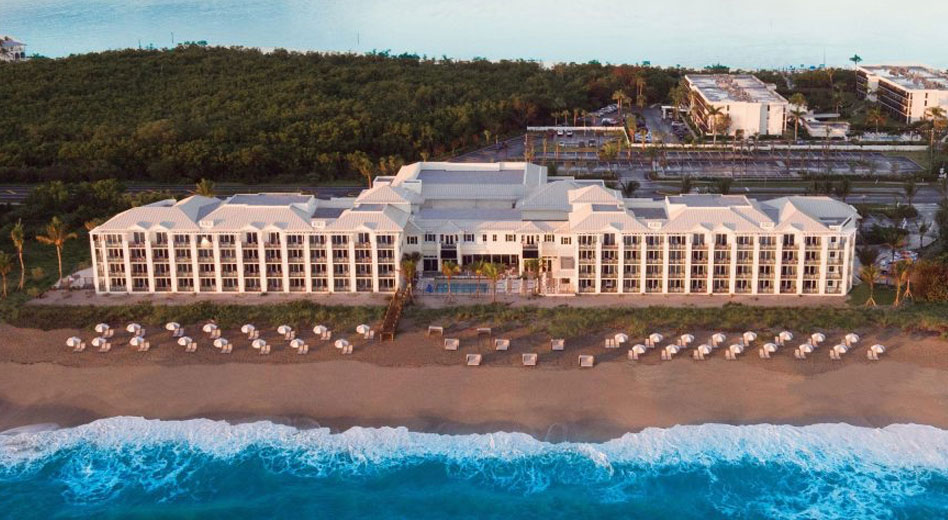 Thomas has a few words of advice to give to other businesses and event directors. "If I could go back in time to when we were just opening and placing our first orders, I'd say, hey, get the tables with castors on them first and foremost. You're going to need those. And always get a few more of everything than what you really need."
He also underlines the importance of considering the quality and efficiency of event furnishings. "ABS Tables are much lighter and much more durable than other banquet tables out there," Thomas says, "which makes life 100% easier when you're moving around 40 or 50 tables at once."

Products Featured in This Article