SUMMARY
State-of-the-art convention center teams up with MityLite
50,000 sq. ft. expansion fitted with durable tables and chairs
MityLite carts boost efficiency throughout the center
Property Overview
The Charlotte Convention Center is the largest event center in "the Queen City" and draws more than half a million visitors per year. It is ideally situated in Uptown, the central business district of Charlotte, North Carolina, which is ranked as the 15th fastest growing city in the U.S. The convention center is within walking distance to 200 restaurants and over a dozen hotels. A pedestrian bridge attaches the convention center to the adjacent 700-room Westin Hotel.
A popular destination for large national and international events, the Charlotte Convention Center features a huge exhibit hall and 46 meeting rooms and ballrooms.
Property Highlights
Year built: 1995, expanded 2019
Location: Charlotte, North Carolina
Event space: 600,000 sq. ft. (55,741 m2)
MityLite event furnishings: Reveal Linenless Fixed Width Tables, ABS Rectangle Tables, ABS Round Tables, ABS Carts, Magnattach® Dance Floor, SwiftSet HD Stacking Chairs, SwiftSet Carts, XpressPort Carts, and more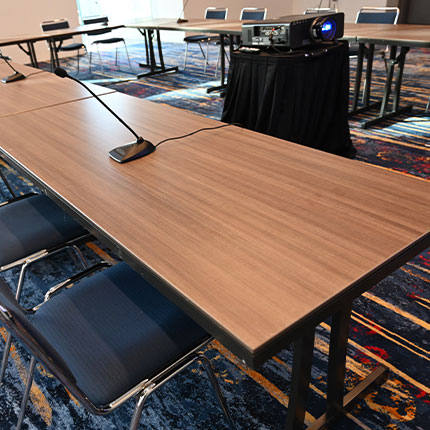 "Our new MityLite lineless tables are very nice looking and save a bunch of time. We no longer have to cloth the table, put clips on, and then skirt the table, like we used to. Also, they are much sturdier than our older tables."
Seeking Sustainable Event Furnishings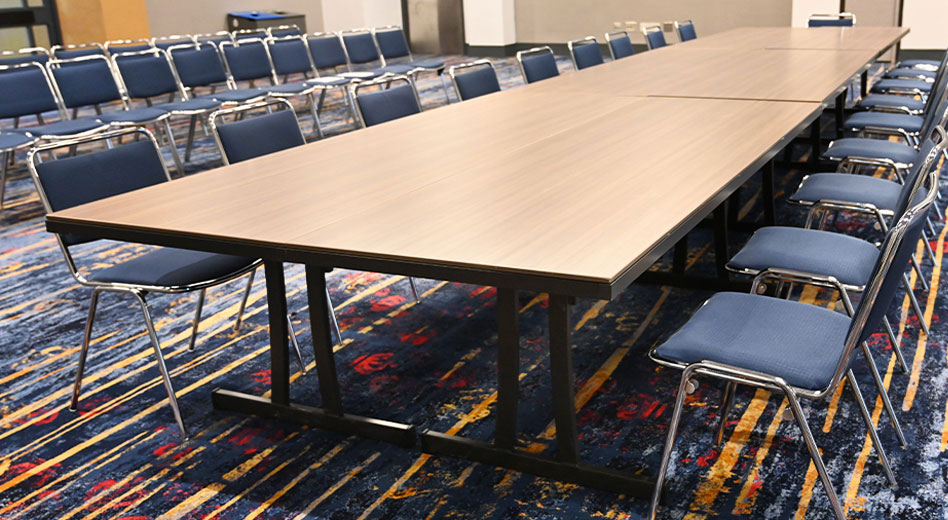 The Charlotte Convention Center completed a huge, $126.9 million-dollar expansion in 2019, which added 50,000 square feet of meeting space. "With the opening of our new expansion, we knew we were going to need to expand our inventory of meeting room tables," said Jackson McLaughlin, the Director of Operations & Engineering. "Also, in the interest of cost-saving and sustainability, we wanted to move in the direction of a linenless option wherever possible." MityLite offers several styles of linenless folding tables, most of which are recyclable and GREENGUARD Certified. "Based on our past experiences with MityLite, we knew they would be a valuable partner in the process."
After narrowing down which products they were most interested in, the convention center asked for samples from MityLite. "We found MityLite products to be solid, lighter than competitors, and attractive," said McLaughlin. "Additionally, the cost made the products even more attractive."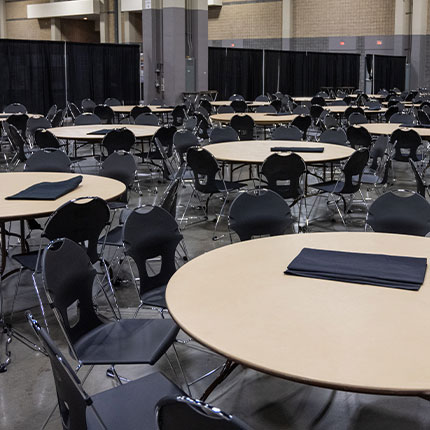 "MityLite has provided durable, reliable chairs and tables for the Charlotte Convention Center for years. They also tend to be lighter weight than their competitors, allowing for an easier time for the operations crew."

Why MityLite?
Here are the top seven reasons why the Charlotte Convention Center chose MityLite products, in their own words.
Customizable. "The choice of tabletop finishes and frames colors allowed us to select equipment that coordinated with our existing facility's design." – Jackson McLaughlin
Durable. "Our new MityLite linenless tables are much studier than our older tables. – Khamari Alexander
Efficient. "The carts allow us to get rounds around the building much more quickly than before." – Khamari Alexander
Easy to use. "The SwiftSet Chairs are durable and easy to connect when placing a theater seat. The Magnattach dance floor and the hi/low boys are easy to put together." – Khamari Alexander
Attractive. "Our new lineless tables [from MityLite] are very nice looking." – Khamari Alexander
Cost-effective. "The cost made the products even more attractive." – Jackson McLaughlin
Responsive sales & support teams. "Our MityLite sales rep is extremely responsive, thorough, and communicative." – Jackson McLaughlin
Greater Efficiency with MityLite Tables, Chairs, & Carts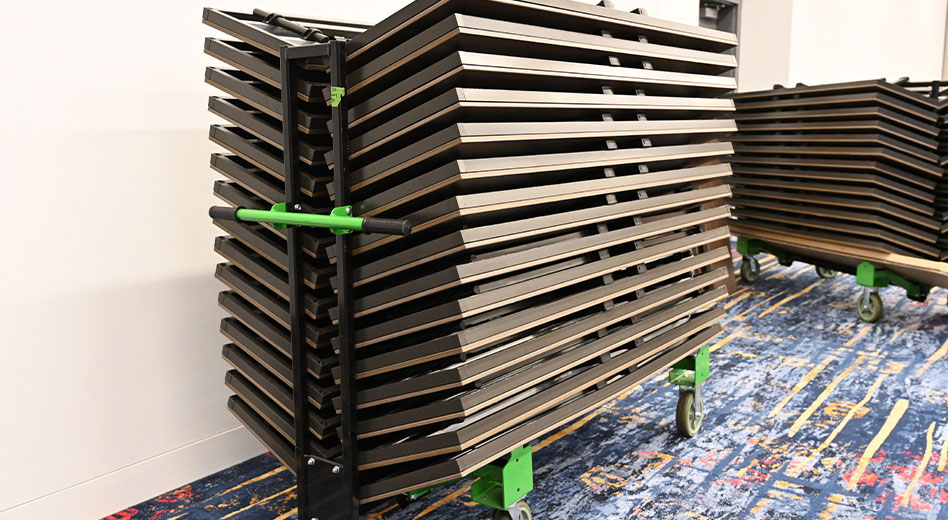 The Charlotte Convention Center ordered Reveal Tables, ABS Tables, 10,000 SwiftSet HD Stacking Chairs, and lots of carts. "The Reveal Tables provided a great solution for us," said McLaughlin. "We found the tables to be light and easy for our staff to move around, yet sturdy enough to hold up to the constant movement. They pull double duty as either 18-inch or 30-inch-wide tables, and when folded down, they provide our modesty panel solution. The offset leg configuration provides added room and a more streamlined entry and exit for our guests, and the availability of options like integrated power allows for growth in the future. The coordinating slant stack carts provide for easy movement and storage."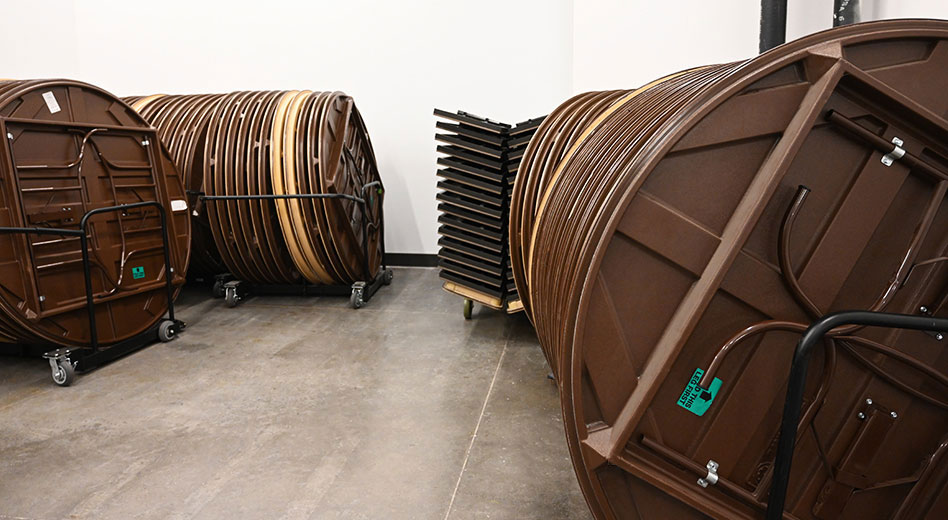 Operations Facility Assistant Manager Khamari Alexander really likes MityLite's carts for the new Reveal Tables, as they have improved his team's efficiency. "The carts fit both 6-foot and 8-foot-long tables, and they have cut the time we take for break downs or set ups," he said. "Before the carts, we had to grab the pallet jack and take folding tables on pallets from one area to another. Now, with the carts, we can push tables throughout the building without having to wait on or look for the pallet jack."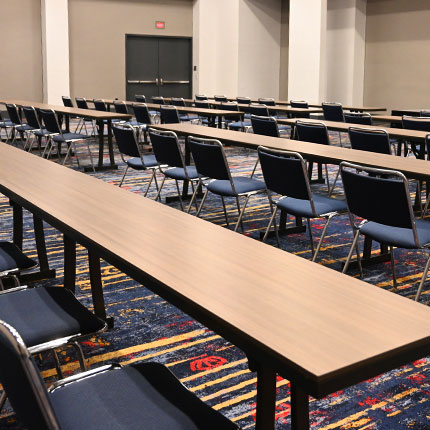 "The most common feedback we've heard from clients and attendees is that they like the clean and sharp look of our classroom style setups with Reveal Tables versus the traditional linen covered tables we used to put out."
Advice to Other Event Centers
McLaughlin has some great advice for other properties who might be selecting furnishings for an event center. "Involve different roles in your organization when selecting furniture and equipment," he said, "especially those who will be handling the equipment. It's not just how it looks, but how easy it is to move around and how it holds up. There are no better judges of that than the operations folks who'll be setting them up."
The staff at the convention center also recommends purchasing products that are easy to clean and stain resistant. It will save time and money over the years. And lastly, they recommend getting the right carts for products to improve efficiency. "The carts allow us to get [tables] around the building much quicker," said Khamari Alexander.

To get a quote for your upcoming project, talk to your Sales Rep.
Products Featured in This Article