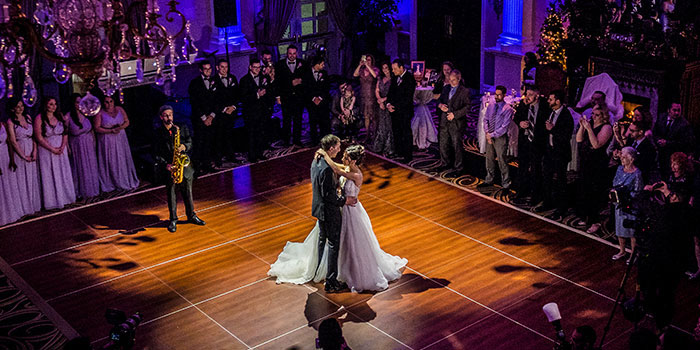 Hosting safe and unique events is one of the best ways for a property to generate revenue. A portable dance floor is a key ingredient.
The most profitable portable dance floors help maximize facility offerings while minimizing expenses. That's why you need a dance floor that is easy to set up to reduce labor costs and durable enough to last for a long period of time with minimal need for maintenance.
3 Things to Consider When Buying a Portable Dance Floor
To achieve the best return on your investment, purchase a portable dance floor that meets these three requirements:
Durable design
Easy to use
Safe for employees and guests
1. Durable Design
Most popular portable dance floors have either a wood parquet or laminate surface.
Which Type of Portable Dance Floor is the Most Durable?
While a wood parquet dance floor might be attractive, this material is more susceptible to indentations and punctures from high heels. Wood parquet is also more likely to become scratched and sustain other damage. Additionally, wood surfaces typically require periodic maintenance, such as sanding and refinishing.
For these reasons, laminate surfaces are more durable and provide a better investment. You will also find there are many customization options for a quality laminate dance floor that will still provide an attractive design.
The Floor Designs and Assembly Methods Matter
The design of the floor panels also greatly influences the overall durability of a portable dance floor. Panel systems that use cam-locks or set screws have moving parts that are prone to breakage. They also slow down dance floor assembly and can be dangerous to assemble.
A dance floor with a magnetic wedge lock system for panels presents a safer design that is easier to assemble. These have no moving parts and absolutely nothing to break or lose track of.
2. Easy to Use
A dance floor designed to set up and take down easily and quickly will provide a great return on investment. A portable dance floor with easy-to-handle panels with magnetic locks can be set up 90% faster than a dance floor that requires screws for assembly.
3. Safe for Employees & Guests
Edge ramp design is a crucial safety factor in portable dance floors. Look for dance floors that have edge ramps made from heavy-duty extruded aluminum. It's also important for panel seams to lock together to help avoid injuries.
Portable dance floors with poorly designed edge ramps can have panels that will separate, causing a serious safety issue for guests. Having an open gap between panels can act as a pinch point and potential tripping hazard.
A high-quality portable dance floor is built to last for many years of use. It allows employees to turn over rooms quickly and is designed with safety top of mind.
The MityLite Portable Dance Floor
The MityLite Magnattach Dance Floor meets all the above recommendations and has a durable laminate surface with many customization options. The panels feature magnetic wedge locks that fit together seamlessly making it safe for guests and employees. The design allows setting up or taking down the floor in 7 minutes. That can save you more than $20,000 per year in labor costs when compared to similar portable dance floors on the market.
Learn more about our Magnattach Dance Floor today!