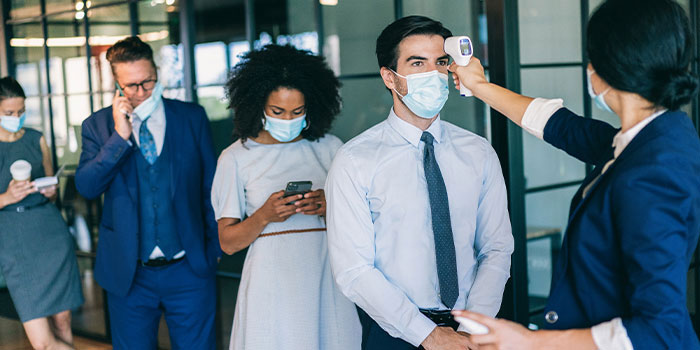 The global pandemic of COVID-19 and continuing safety concerns have permanently changed the event landscape worldwide. Businesses canceled conventions and tradeshows and people canceled personal and professional travel plans.
However, that doesn't mean events stopped altogether as forward-thinking organizations moved events online. Many virtual events were wildly successful. Afterall, meetings and conventions are important for professional development and networking. In fact, the Meeting Professionals International (MPI) association sums up the importance of meetings this way:
"Because when people meet, they can think in ways previously unthought. Because when people meet, they can break barriers. Because when people meet, they can change the world."

Although many people miss attending live events, they won't do so unless they feel safe.
Here are three ways you can make your property enticing for businesses and event attendees in this difficult environment:
Create safe event spaces that use social distancing
Offer unique locations for virtual events
Develop a plan and the resources for hybrid events
How to create safe spaces for onsite events
Redesigning spaces to be safe while also being attractive and inviting can be a great way to encourage event planners to use your property. You can use social distancing products and practices to create layouts that attendees will enjoy.
Create floor plan options that observe social distancing so event planners can choose from designs that fit their needs. Include diagrams and floorplans that illustrate directional flow for one-way traffic.
Supply updated photos of meeting spaces that reflect social distancing and show how groups will move around public spaces. Also consider showcasing outdoor spaces and non-traditional meeting setups.
Communicate your PPE protocol to event planners so they can prepare attendees for what to expect before they register for the event.
Here are a few meeting room layouts to reference as examples: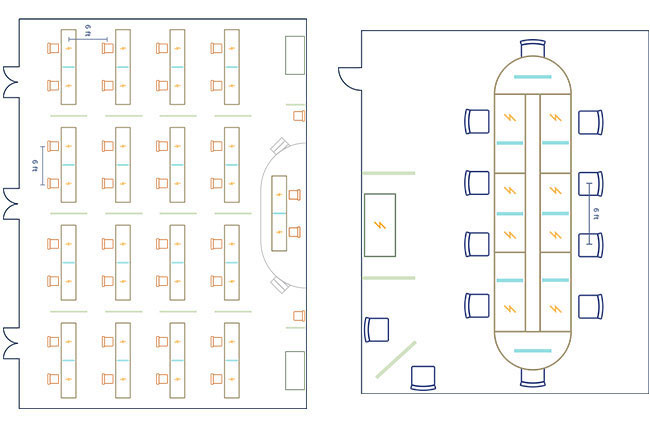 Consider Using Linenless Tables
In a world with COVID-19, linenless tables might be the best option. With these tables, you can simply wipe down the tabletops using disinfectant wipes or sprays between uses without causing damage to the surface. In addition, the seamless tabletops mean there are no places for germs to hide. You will also save money over time as you won't have to pay the cost to launder linens.

Tables with integrated power can improve social distancing
It's no longer feasible for groups of people to gather around a small area to charge their devices. Providing power on tables for meetings and events has never been more important.
Most Reveal and Elevare Tables come with the option of integrated power.
Available with (3) 110 V power outlets and (2) USB outlets
Standard cord management slots allow for retrofitting
Set up options include daisy-chain and other cord management tools
Prepare your property to host virtual events
Virtual conferences & meetings
Many people and companies are not ready to host and attend live events. In fact, now that virtual conventions have been successful, they might be here to stay. It certainly saves money for presenters and attendees.

However, by creating a virtual rental package for event planners, you can fill a new need and have a new revenue source.
Presenters who are going virtual still need a nice setting and an environment with technical options. By allowing companies to rent your meeting rooms and other spaces for their virtual events, they can still create an exciting environment while catering to those who want to avoid live events.
Other virtual events
Many couples are choosing to postpone weddings while others are having a small service with a handful of family and friends held outside with social distancing. Now is a perfect time to offer flexible, less expensive packages for couples who want to have a special day without holding a large celebration.
You can also offer the option for a virtual ceremony. Create an affordable package for couples to rent your facility to create a beautiful backdrop for their virtual wedding. That will make their day feel more special than if they hold a virtual ceremony at their home.
You can apply this same strategy for bar mitzvahs, life celebrations, and other events.
The Hybrid event is the latest trend in event planning—and you'll want to be a part of it!

Microsoft, eBay, and Hubspot are just a few industry leaders that have realized the value of hybrid meetings and events to increase sales, improve performance, and grow attendance.
Hybrid meetings integrate technology with traditional event practices to create a new type of attendee experience and content delivery. They include any meeting or event with at least one group of face-to-face participants that digitally connects with participants in other locations.
Hybrid Events look something like this: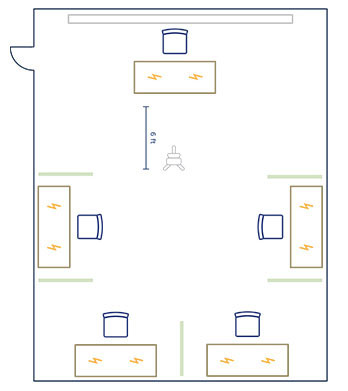 Offering your property as a place to host hybrid events could fill a great need for businesses while providing an exciting new revenue stream.
Businesses that are willing to get creative and offer unique solutions will be much more likely to survive during challenging times. Now, is the perfect time to stand out and become an industry leader. Opportunities for revenue and brand-building are still out there for innovative organizations.