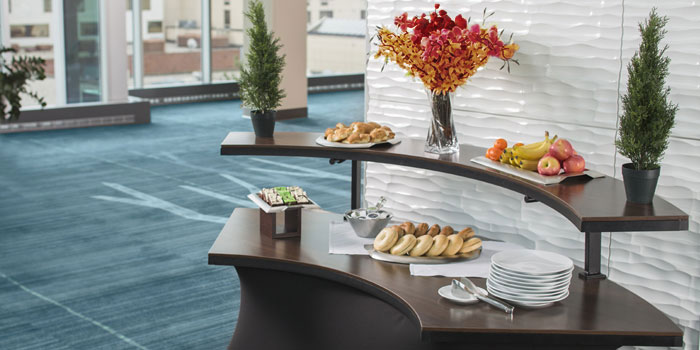 Save time, money, and the environment with linenless tables
Linenless tables have a sleek, modern look that helps make event and meeting spaces look inviting and attractive. However, there are many additional benefits that come with using linenless tables. They are easier to clean, more cost-effective, and a more environmentally-friendly choice.
Here are FIVE ways linenless tables can benefit your property while making your commitment to corporate responsibility more apparent. This is even more important in a world filled with the challenges caused by COVID-19.
Safety & Cleanliness
Sustainability
Economics
Ease of Use
Durability
Safety & Cleanliness
Linens can trap germs and bacteria, and that's something your property will likely want to avoid. Using linenless tables will help keep your guests and employees safe. The laminate surfaces are also easy to clean and sanitize with common disinfecting sprays and wipes.
Here are some additional cleaning and disinfecting tips for linenless tables with a laminate surface.
PRO TIP

Tabletop seams are a great place for food crumbs and germs to hide. Look for tables with a seamless top for a safer option that's easier to clean.
Sustainability
These days, safety and sustainability seem to be at odds as venues are using more disposable items than they have in years. Implementing some new environmentally friendly practices can help offset the environmental impact of these safety practices.
Linenless tables help your property avoid wasting thousands of gallons of water each week to launder linens. And that's a great thing for the environment!
Learn more about how MityLite manufactures sustainable products.
Economics
Using linens adds a significant cost to the budget of any property. Cleaning services can cost up to $20,000 per year. In addition, several hours of labor are needed each day to count, sort, and transport linens to and from event spaces. Linenless tables are definitely more cost-effective.
Ease of Use
Linenless folding tables make room turnover faster and easier. Tables can be easily set up, moved, taken down, and stored without having to find and replace linens.
Durability
Well-designed linenless tables feature a laminate surface that will stand up to commercial use. You need tabletops that are resistant to heat exposure and materials that can scratch the surface. In addition, the edges should be resistant to damage from accidental dropping.
Learn what else to look for in durable table design and product testing.
If you buy the right table, it will save you time and money, and it will be good for the environment as well.
This infographic provides a visual breakdown of the key benefits and features to look for in a linenless table that will be worth your investment.
Learn more about Reveal Series Tables and Elevare Series Tables below.
Best Linenless Tables

Products Featured in This Article