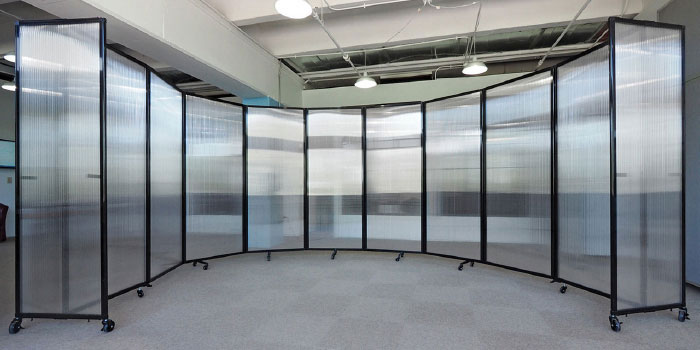 In this new reality for businesses, there is a great need for germ shields and room dividers that are easy to clean to protect people from airborne contact as they work and interact.
To address this need, MityLite has launched a new panel option for the Folding and Telescoping partitions. Easy to clean partitions are perfect for healthcare, businesses, and all public environments, as outlined in this shareable pdf.
What is polycarbonate plastic?
Polycarbonate plastic panels are kind of a jack-of-all-trades when it comes to commercial-grade plastic sheets. They are durable, versatile, and easy to work with. Polycarbonate panels can be used in hundreds of custom projects from pergola coverings, skylights, custom greenhouses, and other structures. They can even be used for solar cookers and biomass generators. There is no limit to the use for polycarbonate plastic.
Can you explain the new option for the Folding and Telescoping partitions?
Sure. Folding and Telescoping partitions are now available for order with the option of polycarbonate plastic folding panels. These are lightweight, waterproof, impact-resistant panels set within a durable aircraft-aluminum frame.
What are some of your favorite benefits of the polycarbonate Folding and Telescoping partitions options?
These partitions are lightweight yet sturdy with excellent impact resistance. They offer superior versatility and they are very easy to clean.
Do these panels offer the same privacy and sound-dampening benefits of the traditional fabric panels?
As far as privacy is concerned, there are a few different options for the polycarbonate panels depending on what the customer needs. They are semi-transparent to allow light into a space while still creating a private environment for patients and employees. We have four color options that provide varying levels of translucency, from clear translucent to a white opaque. The polycarbonate panels offer the same sound-dampening benefits as the fabric panels.
How much sound do the partitions block?
In product testing, the partitions were shown to absorb up to 80% of sound from frequencies common to the human voice. Many residential interior walls were shown to only block 30% of sound.
What makes polycarbonate partitions a good fit for the healthcare industry?
The panels are less likely to absorb germs and bacteria than fabric, making them a good barrier or germ shield.
In addition, the panels can be cleaned with mild, water-free solvents and water-based cleaning agents or foam without damaging the product.
What other industries do you believe will have a use for these partitions?
I know a lot of office environments have an open floor layout. Once people return to work, businesses would be wise to set up these partitions as office dividers or desk shields around employee workspaces to provide continued social distancing precautions. This will help stop germs and airborne infections from spreading. These walls look clean, modern, and they dampen more sound than traditional cubical walls. Since they are semi-translucent, they will not make the room feel too closed off. In an office environment, employees have more privacy while still being able to see their co-workers to some degree. This is a nice feature if, for example, an employee wants to know if a co-worker has left for the day.
In addition, as the economy starts to open, we are working with customers who have a lot of public interaction to utilize these partitions in dining areas and other spaces where people are closer than 6 feet apart.
Is there anything else you think customers should know about these partitions?
These partitions are tough enough to be used in a manufacturing environment, but they have a modern look and they are extremely easy to clean and disinfect. Our hope is that customers can utilize these in a wide variety of environments to help safely open back up the economy. We offer many sizes and we can customize to specific needs for orders of 50 or more. Talk to your sales representative if you have a unique size or application question.