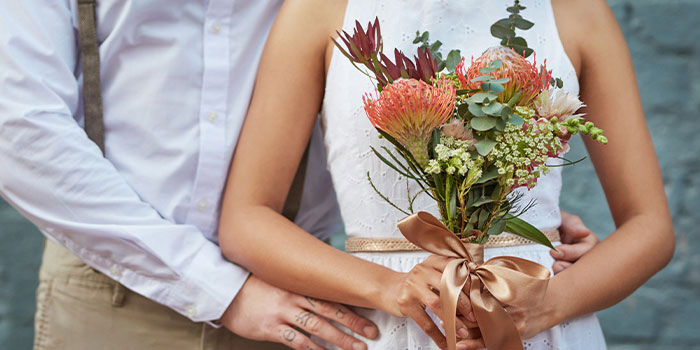 Stunning natural foliage and mild weather make fall weddings extremely popular, especially now that outdoor events are preferable to indoor events.
With so many changes in the wedding industry due to COVID-19, there will be significant adjustments in autumn wedding trends this year. Some old trends will be forced out such as self-serve food options like cheeseboards. However, that's not to say you can't modify classic trends and make them work.
Here are 6 tips to help you host successful fall weddings in a new normal.
Create Intimate Ceremonies and Simple Designs
Wedding parties will likely be small (40 people or less) to account for safety and social distancing. Many reception mainstays, such as tables with fancy linens and plush banquet chairs, will likely stay in storage.
The Bride and Groom will likely be thrilled with options that are simpler and more sanitary. Consider options such as white resin chairs and sleek linenless tables.
These Duramax PRO Folding Chairs are classy with an easy-to-clean resin frame that has a stain-resistant surface. The vinyl seat is removable and easily snaps in or out for convenient replacement if necessary.
Reveal Tables feature an attractive linenless design that can be cleaned using basic disinfecting wipes and sprays. Available in a variety of sizes and finishes, the tables are a beautiful option for dining at weddings.
In addition, create ambiance with tents or canopies that feature unique, fairytale-like lighting designs.
Use Plexiglass for Cake Displays and Food Presentation
Many Brides and Grooms may not want to sacrifice the opportunity to have the cake they've dreamed of at their wedding. With new COVID restrictions in place, you need to have a "sneeze guard" in place to protect that cake from possible germs. Why not build clear shields and partitions into the design for the food and cake presentation. Get creative!
These Protection Shields come in a variety of styles and sizes and comes in models crafted from either acrylic (or plexiglass) or polycarbonate plastic.
Clear Partitions can be used to separate the couple from the person facilitating the wedding as well as the dining tables at the reception.
Utilize Videography
Having a videographer is likely at the top of the list for couples planning a wedding during a pandemic. Because guest lists will be small, a video may be the only way for extended family and friends to share in this important event.
Consider offering a virtual ceremony package where couples can rent your property to create a beautiful backdrop for a virtual wedding. That will make their day feel more special than if they hold the virtual ceremony at their home.
Offer Welcome Boxes
Rather than the traditional bag, a box is likely to be more sanitary, plus who doesn't enjoy an "unboxing" at a party? The boxes will safely house all event necessities, including personalized hand sanitizers, masks, programs and details, and even take-home favors, allowing guests to experience the warmth of being welcomed into the wedding weekend.
Use Complementary Colors
Rather than struggling with a color scheme that might clash with fall foliage, keep it classic with white chairs and subtly colored tables. White not only looks amazing but it allows the flower arrangements and colorful leaves to truly stand out.
Consider using white resin folding chairs and linenless tables in more natural surfaces, such as this Reveal Table with a Beigewood tabletop finish and Silver Sand leg finish.
Choose Seasonal Flowers
When it comes to flowers for autumn weddings, consider using ones that are in peak season during the fall such as dahlias, chrysanthemums, pine-oak, and asters. Reds flowers are an excellent choice for fall weddings, but if that color won't work for the bride, orange and yellow flowers are also good options.
By hosting smaller, less elaborate weddings you will be able to help your guests create something unique, effortless, and magical for everyone involved.