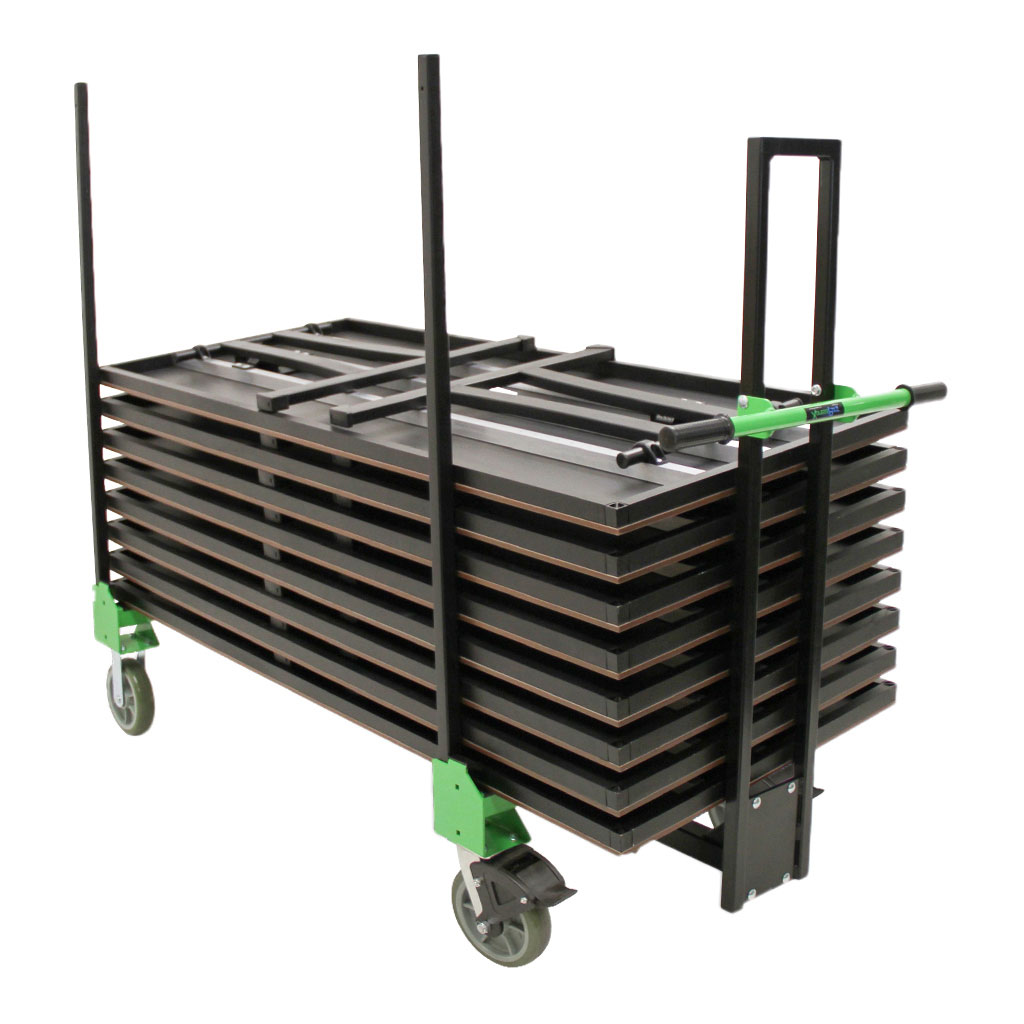 Specifications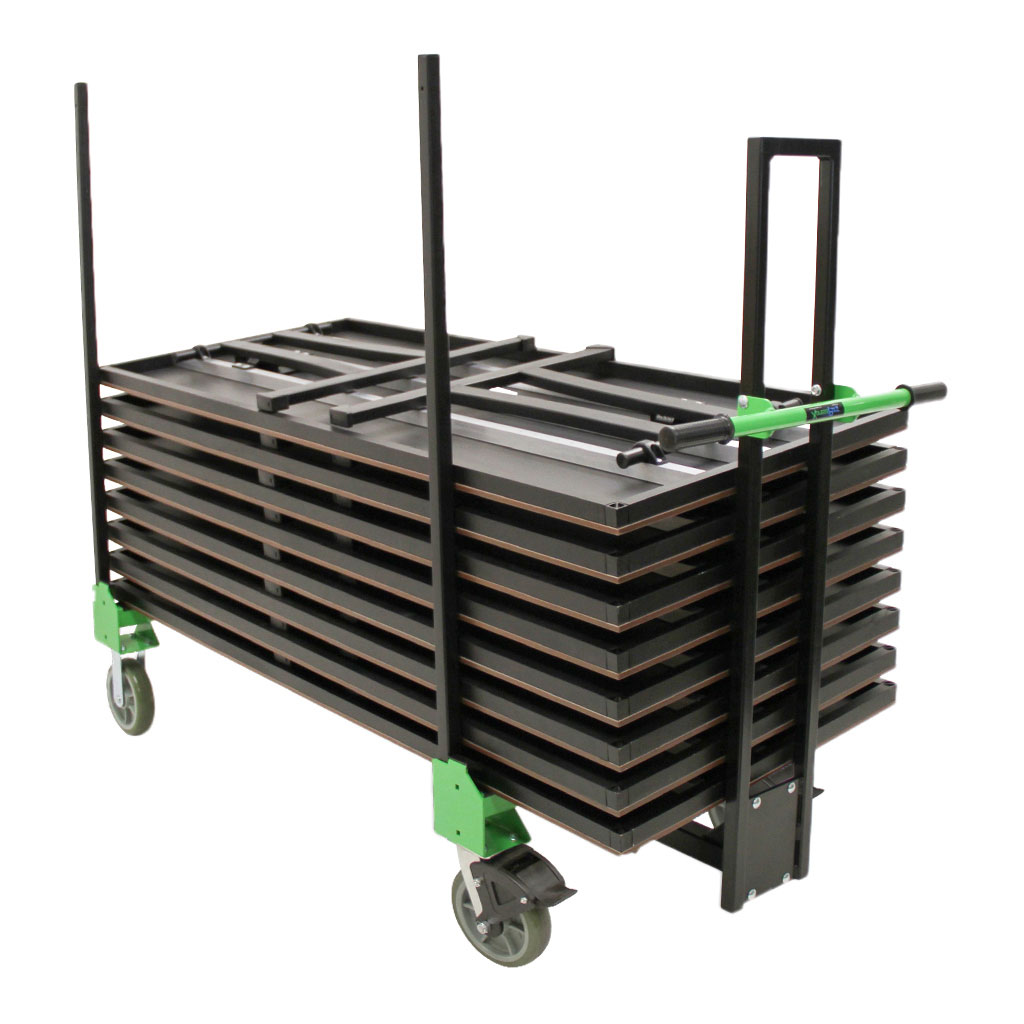 Compatible Products
Holds 18 ABS Rectangle Tables (30″ x 72″, 30″ x 96″, 36″ x 72″, or 36″ x 96″)
Holds 28 ABS Rectangle Tables (18″ x 72″or 18″ x 96″)
Holds 16 Reveal Rectangle Tables (30″ x 72″, 30″ x 96″)
Holds 24 Reveal Rectangle Tables (18″ x 72″or 18″ x 96″)
Holds 22 Madera MAX Rectangle Tables (30″ x 72″, 30″ x 96″)
Holds 40 Madera MAX Rectangle Tables (18″ x 72″or 18″ x 96″)
Replacement Parts
Missing glides or anything else? Just contact our Warranty Team.
Overview
Safely transport tall stacks of MityLite rectangular folding tables with the XpressPort® Slant-Stack Cart. It holds 16 to 40 folded tables, depending on the table style. Unlike conventional flat-bed carts, the slanted-bed design utilizes gravitational force to wedge each table against the backrest posts. This makes the cart easier to load and nearly impossible for stacks of tables to tip over.
Benefits & Features
Stabilizer posts can be moved for use with 30″ wide tables
14-gauge padded wing supports support and protect tables
14-gauge center beam assembly provides solid structural support
Ergonomic handle to allow ease of use and transportation
Two swivel and two rigid casters
"MityLite staff were creative and ensured our ideas were incorporated into the chair design and ensured the integrity of the design was secure and worked properly."
Teri Orton General Manager, Hawaii Convention Center
Assembly & Care
Assembly instructions
Some assembly is required.
Cleaning instructions
Clean surfaces with a soft cloth or sponge and avoid using anything harsher than a natural bristle brush. Normal maintenance can be done by using a mild detergent (pH 5 to 8) or other appropriate cleaning product followed by wiping down with a soft cloth and clean water.
Featured Blog Posts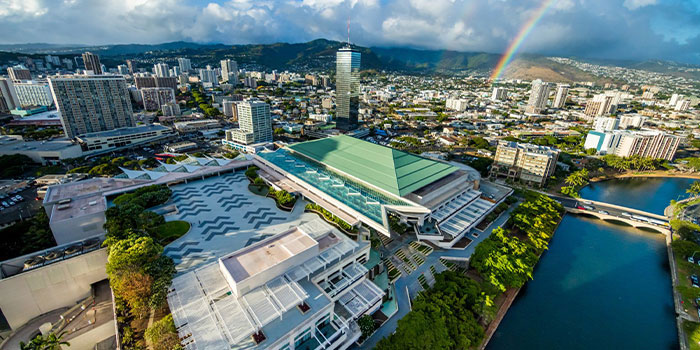 July 20, 2020 - 4 min read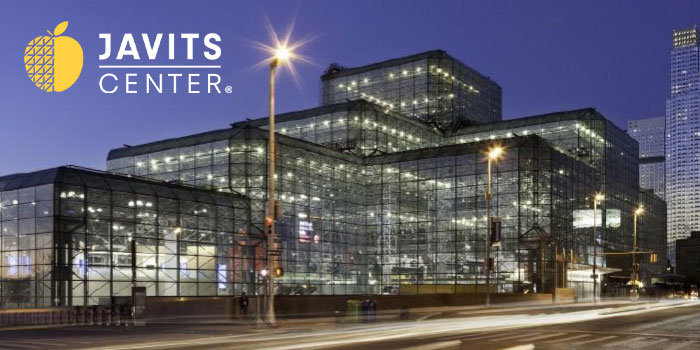 October 18, 2021 - 5 min read
Related Products