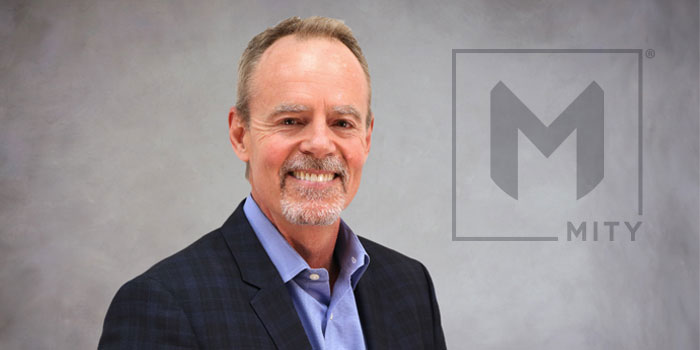 Tony R. Smith joined MITY® Incorporated as the new Chief Executive Officer in Spring of 2019, less than a year before a pandemic hit the world that would change the landscape of the commercial furniture manufacturing industry. COVID-19 has deeply affected the markets we serve and thus has altered the way our future brands must operate.
The four product brands managed by MITY Incorporated
Just before this pandemic hit, Smith was already working with company leadership to develop a new Vision, Mission, and Values for the company. In this blog, we ask him more about that and what lays ahead for our customers and employees.
Vision and Mission
Why did you feel it was important to develop a new Vision and Mission for the company?
In the two years prior to my arrival, MITY Incorporated experienced significant changes in the leadership team. This led to a lack of focus and, as a result, the business was underperforming. Once I joined the company, I found that most employees had a strong sense of commitment and loyalty both to the company and to each other. The process of developing the Vision and Mission engaged employees from all functions and across all levels which reinforced their commitment to creating positive change. This was a collaborative process that raised our collective understanding of the MITY Incorporated culture, our strengths, and our weaknesses. From this understanding, the team was able to develop and align on the Vision and Mission with a true sense of ownership and focus.
Company Values
How did the four company Values grow out of the process of developing this new Vision and Mission?
The Values were developed as part of the Vision and Mission process through a series of workshops that engaged employees from every function and across all levels of the company, from the executive offices to the shop floor. This team brought a great deal of knowledge and experience to the process and were committed to developing values that supported our Mission and ultimately defined what kind of work environment we wanted and how we would treat each other.
What did you learn about the company and the brand during this process?
That the company is made up of very loyal, committed, and hard-working people who are passionate about providing our customers with well made, high-value products and industry-leading service. The Mity Incorporated brand is a reflection of its employees and their passion.
Pandemic of 2020
When did you realize the pandemic that struck in Spring of 2020 was going to impact the company in a major way and force us to switch focus?
The COVID 19 pandemic has had a profound negative impact on the U.S. economy and thousands of companies, including MITY Incorporated. The Hospitality and Public Assembly/Conventions industries were some of the hardest hit and unfortunately include many of our largest customers. We saw the impact on our business as early as March when the occupancy rates in hotels across the U.S. dropped to historic lows and businesses began to cancel their travel and meeting plans.
What was one of first major changes you made in response to the pandemic?
Our number one concern is the health and safety of all MITY Incorporated employees and their families. Beginning in late February we implemented multiple safety protocols across all areas of the company designed to create a safe and sanitary work environment We also enabled many functional teams to work from home in order to minimize their exposure and help employees better balance their family and work responsibilities.
New Products
MityLite has begun manufacturing Protection Shields to help serve new customer needs. What other changes or new products should we expect to see in response to the pandemic?
We are talking to our customers every day in order to better understand the impact that the pandemic has had on their business. We are doing our best to be a good listener and collaborating with our customers more than ever before on product ideation and development.
What about the other product brands? Can we expect to see changes and new products being manufactured by Holsag®, Bertolini®, and XpressPort® in response as well?
You can be assured that all the MITY Incorporated businesses will continue to evolve and adapt to the new economic realities. This will likely include improvements to our current product portfolio and the introduction of new and innovative products designed to meet the needs of our customers for quality, durability, and value.