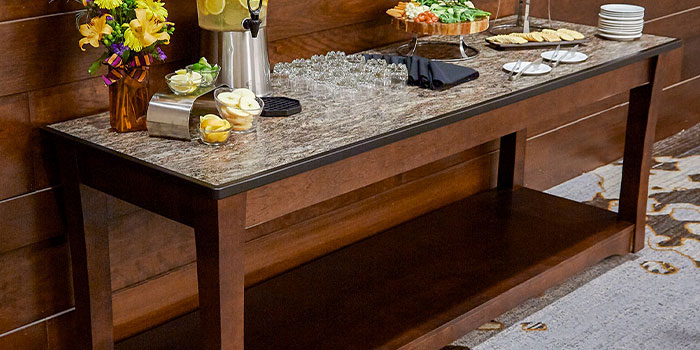 Tavolo tabletops feature a durable Wilsonart® laminate that ensures many years of reliable use. However, regular cleaning and care will increase the life of your product.
Daily Maintenance for Tabletops
For daily cleaning of laminate surfaces, all you need is dishwashing liquid, warm water, and a microfiber cloth. Apply a mixture of dish soap and water to the surface using your cloth. The cloth should be damp, but not dripping wet. Rinse thoroughly with warm water and wipe dry.
Difficult stains, such as coffee or tea, can be removed using a mild household cleaner/detergent and a soft bristled brush—repeat as necessary.
If a stain persists: Use a paste of baking soda and water, then apply to the affected area with a soft bristled brush (a toothbrush works great). A light scrubbing of 10 to 20 strokes should remove most stains. Although baking soda is a low abrasive, excessive scrubbing or exerting too much force could damage the decorative surface.