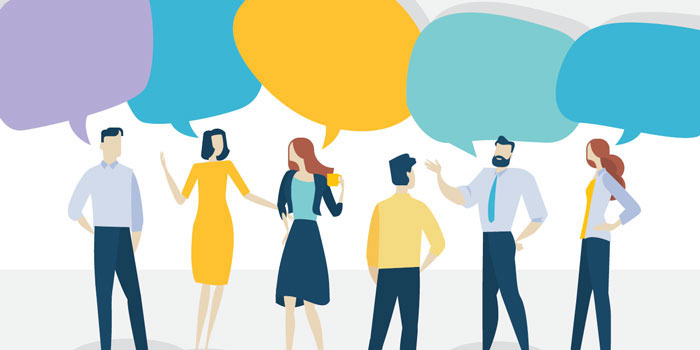 It can be incredibly tough to wade through the different personalities, moods, schmooze, and small talk of a business networking opportunity without feeling like you've just tried to sell yourself to folks who may or may not be buying. But if you follow a few simple rules, you can navigate the world of business networking feeling more like yourself—and with better results as well. Here are six tips.
Give Before You Can Ask
It's the small things that make people feel comfortable. Give your name with a smile and a handshake. Don't avoid eye contact. Also, think about what you could do to help someone out. If you genuinely try to help, they'll want to do the same for you.
If you can connect a new acquaintance to someone else in your network that might be able to help them—you've just become a Super Connector!
Be Discerning
There's no point in trying to draw out a conversation from someone who doesn't seem interested. If you can't get someone to engage in conversation with you, chances are they won't be a great resource for you either down the road.
The reverse is true as well! If you're not feeling a connection or interest in someone who's striking up a conversation, don't drag out the inevitable; wish them luck with a hand shake, take a step back, and let the conversation end (TIP: See Step 5 for ways to make a smooth exit). Remember: the more people you get in front of, the greater your chances of striking up a business friendship that can benefit both parties—it's a little like dating!
Be Positive—It's Contagious
Ever heard that the more you smile the more dopamine, endorphins and serotonin you release? There's another great benefit to flashing that smile—it's catchy. You'll not only be more likely to put people at ease, but you'll subconsciously trigger them to be more open and engaged in what you're saying.
Ask Positive Questions
This goes along with our previous tip. Try asking someone if they're working on anything exciting, or if they've had anything good happen in their day. You're not only asking great opening questions, but you're triggering the same positivity and optimism that will keep them engaged and interested.
Making Your Exit
Sometimes not knowing how to gracefully end a conversation causes enough anxiety for us NOT to start one in the first place! What works nearly every time for networking events? If your conversation went well, ask for their business card and tell them you'll follow up with them about something you talked about. Don't forget to give a good hand shake with good eye contact—and no limp fingers!
Make Sure You Follow-Up
Here's the secret: everybody's busy. How do you make the time you spent networking really mean something? Take the time to follow up, reach out, and connect within two days; offering something that you think your new acquaintance would appreciate or find interesting. Perhaps you could wish them a happy birthday or let them know you have a friend who just finished a project similar to what they're working on—maybe they could offer some guidance. Remember—it's all about being authentic and really offering something that means value.