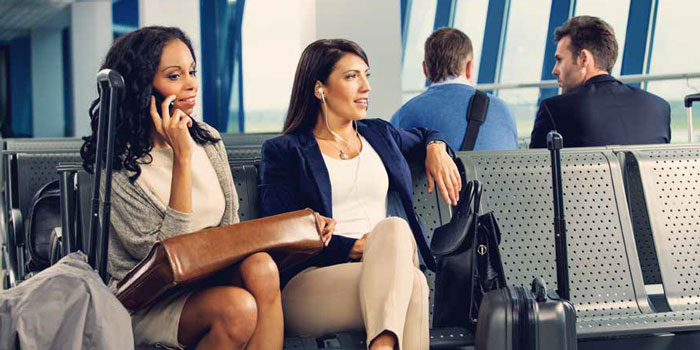 Attracting business travelers is a fantastic way to increase your bookings. In fact, global business travel is expected to reach $1.6 trillion by 2020. The easier you make the process of choosing and staying at your property, the better chance you have of not only booking a room but building loyalty—with customers returning next time they're in your area. Here are 6 ways to attract this demographic and increase your business year-round:
Spotlight Business-Friendly Amenities
No doubt about it, showcasing your amenities the right way can make or break your appeal to business travelers. With millennials making up over half the workforce these days, more and more guests are turning to social media and reaching out electronically before booking; which is why it's critical to highlight your property's features on social media as well.
Think outside the box and don't just cover the bases like complimentary Wi-Fi (a necessity) and great workspaces (either in rooms or as part of your lobby). Let your property really shine and take guests through the experience of staying with you by showcasing lobby and meeting room tables with integrated power, complimentary coffee from local roasters, on-site food and drink options, 24-hour fitness facilities, overnight dry cleaning, and the video conferencing capabilities of private meeting areas. All these are vital for business travelers to keep their devices charged so they can stay connected with the home office and work efficiently during their stay at your property.
Provide Easy Transportation
Offering airport or downtown shuttles is a great way to let business travelers know you can get them where they need to go quickly and efficiently. Perhaps feature local necessities on your website such as pharmacies, printers, grocery stores, and even places to blow off steam after meetings such as batting cages. You can save your guests precious research time by letting them know how close your hotel is to local offices and frequently visited sites. Again, the goal is to have your guests realize that when they stay with you, they'll experience a simpler, more efficient trip.
Offer Healthy Options
An increasing number of business travelers are young and health conscious, therefore it is important to offer more options that fit this lifestyle. Think beyond simply adding hummus and carrots to the room service menu. Today's travelers want to know that the places they partner with are looking out for their well-being.A property that has local, organic, healthy food and beverage options can make a huge impact–especially for those on the go with a busy schedule.
Another great way to attract travelers is to offer a well-equipped gym with 24-hour access, passes to a nearby fitness facility, dance class passes, and onsite yoga. Also have a list of local running routes, walking trails, and bike shops.
Reward Repeat Travel
Many properties have some sort of corporate loyalty program, but it's great if individual properties can also find ways to reward repeat visits. These can include room service perks, discounts to local spas, or a voucher for a free meal at a hip, local restaurant. Often a little gift can go a long way. It might even be possible to create your own loyalty program if your property doesn't have one.
Your Website Should Be Simple
Build a website that looks great along with being incredibly simple to navigate. Potential guests should be able to see right away that you provide group room blocks, meeting or event space rentals, and other rental package options. Make it easy to find direct contact information for in-house sales and provide a contact form, listing details about room blocks, and details about everything your event space rentals include. Don't forget to highlight business-traveler-friendly info such as how close you are to local business centers and other important work hubs.
Offer Healthy Options
Business travelers are an efficiency-minded group. Time spent arriving and leaving your property are typically two of the most stressful experiences guests encounter. Creating an app that allows them a faster check-in and check-out experience is something they'll remember—it could even be enough to attract them back for a repeat stay.
Another great way to streamline a guest's stay: present all their billing (for the room, space rental, services, food, etc.) all in one record. With everything in one spot and easy to identify, expense reporting will be a snap, and your guests will appreciate how easy you've made their stay even after they've arrived home.
Moving the needle on your property's corporate travel is not an overnight task. Plan your corporate hospitality strategy, from your website to your amenities—with an emphasis on efficiency and modern lifestyle trends—and you'll be able to provide business travelers with a comfortable and productive experience at your hotel while increasing your business year-round.