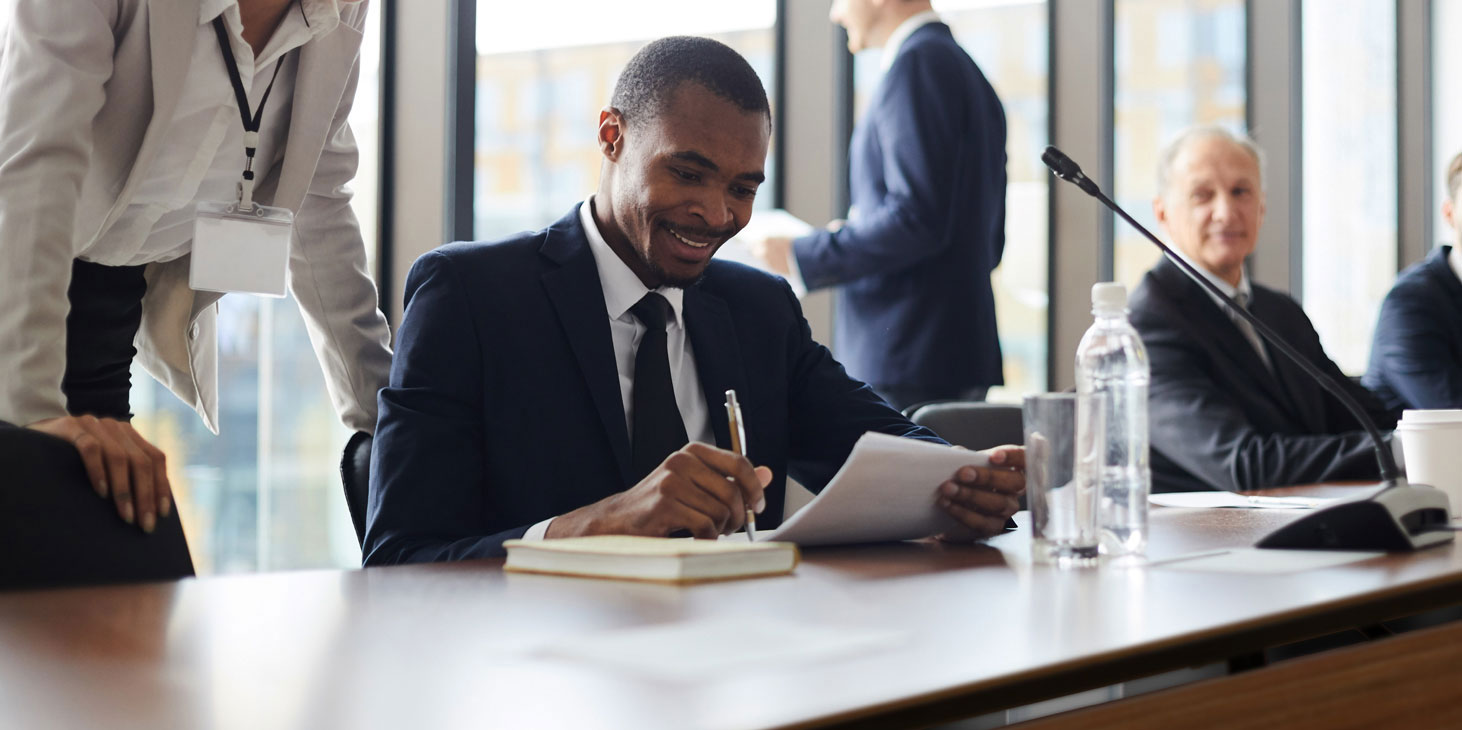 Products built to help you outfit government offices & facilities
Government buildings, offices, and facilities represent the government to millions of visitors and employees. Whether run by the local, state, or federal government, these buildings are essential to our society, and they need to be furnished effectively to promote the productivity and comfort of government employees and visitors.
In this blog, we'll compare types of chairs, tables, and outdoor furniture for government environments. We'll help you identify the products that will best serve the community, meet budget requirements, and help create a professional, highly efficient area.
Most of the products listed in this blog are manufactured in the USA and are an approved product in category 10 of the GSA Category Management Program.
Folding Tables for Government Facilities
Government facilities need durable tables that can be easily moved, set up, and stored to help with quick room turnover and ensure safety for employees.
MityLite manufactures three types of folding tables that are popular for government use. Reveal Duo Tables, Reveal Fixed Tables, and Mesas ABS are ideal for all types of government offices, meeting areas, town halls, courthouses, recreation centers, and other buildings. Providing an excellent return on investment, these tables are durably built and made to maintain a professional appearance for years.
The Reveal Duo and Fixed folding tables are professional-looking linenless tables that feature a smooth laminate tabletop. These high-end tables also have the option of integrated powder, which is extremely useful for meetings and presentations.
The ABS tables are lighter than the Reveal tables and less expensive, although they don't feature the linenless tabletop. When you need a durable table that's also lightweight, nothing on the market beats MityLite ABS Folding tables.
Compare the benefits of ABS & Reveal folding tables
Preço
$
$$$
Durabilidade
✪✪✪✪
✪✪✪
Models

Cocktail
Redondo
Retângulo
Meia Rodada
Quarta Rodada
Serpentina
Mobile Buffet

Cocktail
Redondo
Duo
Fixed
Flip
Meia Rodada
Mobile Buffet
Mobile Nesting
Specialty

mesa
Plástico ABS
Laminated
Tabletop Edge
MityLite UltraEdge
MityLite UltraEdge
Quadro
Powder-coated steel legs or trumpet base
Powder-coated steel legs with patented snap-lock feature
Capacidade
2.000 libras.
2.000 libras.
Peso
15 lbs. to 81 lbs.
35 lbs. to 81 lbs.
garantia
15 anos
15 anos
Highly durable, all these folding tables can be easily stacked and carted into storage when not in use. They are available in multiple shapes and sizes. They are easy to set up, take down, and store, saving you money on maintenance, labor, and replacement costs.
MityLite carts make it easy to transport and store folding tables. The Reveal Edge Cart is easy to load and fits through standard doorways. For larger facilities, the cart can be expanded to hold up to 10 Reveal tables. For rectangular ABS Tables, check out our RT Cart – Double Capacity, which holds 20 ABS tables.
Stacking Chairs for Government Facilities
Stacking chairs are an excellent choice for flexible seating areas. MityLite manufactures a variety of stackable chairs for government buildings. Select from upholstered banquet chairs, heavy-duty molded plastic stacking chairs, or innovative chairs with stretch fabric seats.
bis e Elite Banquet Chairs are popular for government use in environments where stackable and upholstered chairs are desired. These are great all-around conference and dining room chairs that perform well in government offices, waiting areas, courthouses, meeting rooms, dining areas, and multipurpose areas. Although stackable and easy to tuck away, these upholstered chairs give a permanent feel to a room setup that casual folding chairs cannot.
These meeting chairs feature comfortable, upholstered foam cushion seats and backrests and a sturdy metal frame. Professional and polished in appearance, they are durably built for heavy use and stack 8 to 10 chairs high.
The 5-Wheel Comfort Chair Cart offers an efficient way to transport and store MityLite banquet and meeting seating like the Elite and Encore chairs.
Another great stacking chair for government facilities is the Cadeira empilhável MeshOne. Although more casual in appearance than upholstered banquet chairs, the MeshOne is great for indoor environments that don't require a degree of formality, such as waiting areas, break rooms, meeting rooms, and training rooms. These stackable chairs feature a comfortable elastomeric mesh fabric seat that conforms to the shape of the user. MeshOne Chairs stack 8–10 chairs high and are available with or without arms.
Comparing Stacking Chairs
| | | |
| --- | --- | --- |
| Preço | $$$$ | $$$ |
| Opções de personalização |  Back style, fabric, frame color |  Frame color |
| Conforto | ★★★★★ | ★★★★ |
| Quadro | Alumínio | Aço |
| Stacking height | 10 cadeiras | 8–10 chairs |
| Capacidade | 1,000 lbs. (453.5 kg) | 1,000 lbs. (453.5 kg) |
| Peso | 12 lbs. (5.4 kg) | 11.6 lbs. (5.3 kg) |
| garantia | 12 anos | 10 anos |
Folding Chairs for Government Facilities
When storage space is at a premium, folding chairs are the best choice for seating large groups in flexible spaces. MityLite folding chairs are ideal for large public meetings, city events and ceremonies, visitor centers, and in many other circumstances where cost-effective seating is needed.
Most people think of folding chairs as being uncomfortable, but MityLite has created several comfortable folding chairs that defy that expectation.
O MeshOne® has been called the most comfortable folding chair on the market. It features an elasticized mesh fabric seat and back, which conforms to the shape of the user and minimizes pressure points. It also promotes airflow, which helps minimize overheating and stuffiness during long meetings.
O FlexOne® CS folding chair is made with a flexible plastic seat and back. Although it doesn't feel as cushy as the MeshOne, it is quite comfortable for a folding chair. The geometric-shaped plastic flexes with the weight of each person, adding some flexibility to the surface and increasing comfort and airflow.

O SwiftSet folding chair is made with a molded plastic seat and back. It is the most economical folding chair from MityLite and is designed for dense stacking. While it lacks the flexible feel of the other folding chairs, the plastic material is more comfortable than a standard metal folding chair.
Tabela de comparação de cadeiras dobráveis
| | | | |
| --- | --- | --- | --- |
| Nível de conforto | Alto | Médio | Baixo |
| Capacidade | 1,000 lbs. (453.5 kg) | 1,000 lbs. (453.5 kg) | 1,000 lbs. (453.5 kg) |
| Durabilidade | ✪✪✪ | ✪✪ | ✪✪✪✪ |
| Peso | 10.7 lbs. (4.8 kg) | 11 lbs. (4.9 kg) |  11.5 lbs. (5.2 kg) |
| Ponto de preço | $$ | $ | $$ |
| Limpeza | Fácil de limpar e higienizar | Fácil de limpar e higienizar | Fácil de limpar e higienizar |
| garantia | quadro de 12 anos | quadro de 12 anos | quadro de 12 anos |
| Fabricado | | | |
| Certificado GREENGUARD | | | |
Outdoor products for government facilities
Outdoor areas at government facilities can be furnished with products from the Salgueiro e Magnólia collections. These chairs, tables, and benches are built with weatherproof materials and anodized aluminum frames.
Ideal for parks, patios, recreation centers, employee lounge areas, aquatic centers, and other outdoor areas, this furniture is ruggedly built and will last for years.
Preço
$$$$
$$$
Collection items

Armchair, side chair, bench,

barstools,

tables,

chaise lounge

Armchair, side chair, bench, tables, chaise lounge
Conforto
✪✪✪
✪✪✪
Opções de personalização

None

•

Choice of

8

frame

finishes




•

Choice of

faux teak, faux wicker, or fabric mesh (14 fabric colors)

Quadro

Alumínio

Alumínio
At MityLite, we work with government facilities every day and we understand that furniture needs will differ from department to department. Our sales representatives are always available to answer questions, even if you aren't ready to place an order.
Entre em contato conosco se precisar de ajuda enviando um e-mail para [email protected] ou ligando para nós no 800-909-8034.